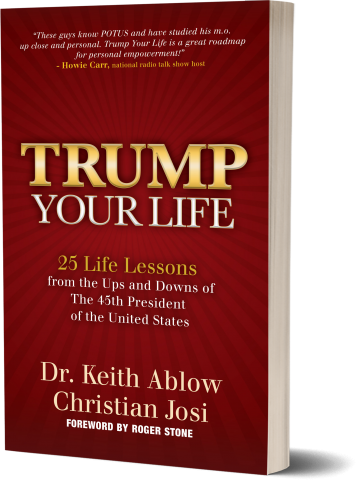 - August 26, 2020 /PressCable/ —
A new personal empowerment and self-development book has been launched, called Trump Your Life by Dr Keith Ablow and Christian Josi. It gives readers 25 keys to President Trump's successes and failures in business, entertainment and politics so that they can apply the lessons to their own lives.
More information can be found at: https://www.trumpyourlifenow.com
The authors explain that President Trump has shown a power to win against the odds, and now they're offering others the chance to change their own lives through the lessons learned from him.
Published by Morgan James Publishing, the book is designed to make readers stronger, shrewder, and more successful in each aspect of their life. Readers will be able to apply the lessons to dramatically improve their personal life, their family life, their business and their local community.
Dr Keith Ablow worked as a psychiatrist for 25 years before starting his life coaching platform, Pain-2-Power. He has developed the ability to find out what empowers people and help them apply those skills to achieve their goals.
Now he's using that vision to help more people through the launch of the Trump Your Life book. It's written alongside veteran communications specialist, political consultant and producer, Christian Josi.
Dr Keith Ablow and Christian Josi have combined their in-depth personal experience with the president's work to write a concise, entertaining manual for those who want to increase their chance of success in life.
One lesson is grounded in determination. Dr Ablow writes: "Refuse to let anyone tell you that you're not good enough to work toward any goal you've identified for yourself, your family, your business, or your community. But do the work."
Another lesson states: "Assume you will encounter increasing resistance as you pursue bigger goals."
Trump Your Life delivers 25 key insights and lessons to help readers achieve their goals. The book can be used to help readers transform their relationships and revolutionize their approach to work.
Additional details on the book can be found at: https://www.youtube.com/watch?v=pHVwsxDh5pI
About the Author:
Dr. Keith Ablow served for a decade as a Fox News Network Contributor. He is the author of 16 books, including the New York Times bestseller The 7 Wonders (with Glenn Beck) and the international bestseller Living the Truth. He has appeared as a guest on over 1,000 national television broadcasts, and has written over 500 articles for publications including USA Today, the Boston Herald, the New York Post, Newsweek and Discover. Dr. Ablow now works with clients one-to-one through his revolutionary new life coaching, counseling and mentoring program Pain-2-Power. He currently resides in Newburyport, MA.
Christian Josi is a leading communications advisor and a veteran of center-right/libertarian politics and non-profit management. He is an author, columnist, internationally known songwriter, and recording artist. Christian has five albums and a host of guest appearances on other artists' recordings. He is also a documentary film producer, and frequent columnist for a variety of publications. Christian is the Founder and Managing Director of C. Josi & Company, a global communications resource firm based in Virginia Beach and Washington. He currently resides in Virginia Beach, VA.
More About This Title:
Trump Your Life: 25 Life Lessons from the Ups and Downs of The 45th President of the United States by Dr. Keith Ablowand Christian Josi, will be released by Morgan James Publishing on June 2, 2020. Trump Your Life —ISBN 9781642798807—has 100 pages and is being sold as a hard cover for $20.20.
Release ID: 88971560