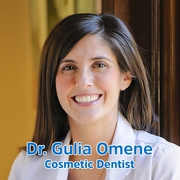 - November 15, 2016 /PressCable/ —
Paoli, PA — Paoli dentist Dr. Gulia Omene is excited to introduce new cosmetic facial treatments at Omene Family and Cosmetic Dentistry. Starting immediately, Dr. Omene will provide therapeutic Botox treatments for head and neck pain, TMJ, tooth grinding, and associated pain, as well as anti-aging dermal fillers and aesthetic Botox treatment.
"As we've been doing a more complete smile makeover for patients at our paoli dental clinic, we realized that it's wonderful to get their teeth looking nicer and whiter," said Dr. Omene. "But almost every person when I gave them the mirror would say, 'Oh my teeth look awesome, but what can you do about these wrinkles?' Almost in jest. But the more I researched, the more I realized there is a lot I can do. So if we want to offer a true smile makeover, we have to do the whole face, because that's what really frames the smile."
Now, in addition to cosmetic and family dental services, Omene Family and Cosmetic Dentistry can treat marionette lines, crows feet, forehead wrinkles, and other signs of aging. Dr. Omene also hopes to reassure interested patients that these anti-aging cosmetic treatments don't create a frozen, plastic look.
"There's definitely a lot of stereotypes about how you look with botox or fillers. One important thing I've learned is that it can be as natural and subtle looking as you want. We're not about making people look frozen or plastic. It's a way really to frame the person's smile and give back some of the volume and youthfulness that unfortunately tends to decline as we get older."
In October, Dr. Omene completed an American Academy of Facial Aesthetics course on Botox treatments. Initially, Dr. Omene said the pain-relieving qualities of Botox were what sparked her interest. She believes that despite popular perception, Botox can offer tremendous relief to those suffering from headaches, neck pain, and head pain.
"Botox actually works on the muscles, not the skin," she explained. "So if you have any muscles that are really hyperactive in the face or neck, that can contribute to upwards of 85% of head and neck pain. So by getting those muscles into control, you can control a lot of the patient's pain."
About Omene Family and Cosmetic Dentistry
Omene Cosmetic and Family Dentistry is a new Paoli, Pennsylvania family dental clinic. Owner Dr. Gulia Omene provides the cosmetic dental services that families want and need including teeth whitening, dental implants, veneers, Invisalign, and cosmetic dentistry and general dentistry services. She is an active member of the American Dental Association, the Academy of General Dentistry, and the Pennsylvania Dental Association. Dr. Omene is committed to both excellent patient care and building long-lasting patient-doctor relationships. For more information about the Paoli dentist, please call their office or visit their website.
Release ID: 146208