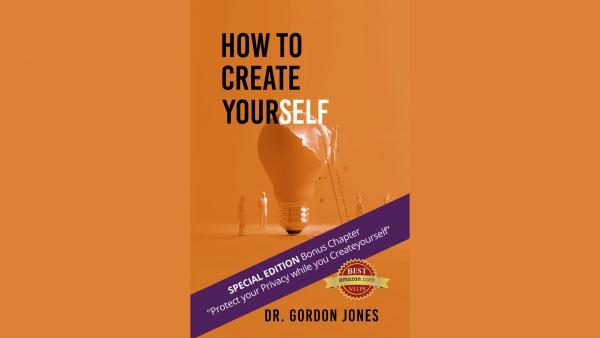 - December 11, 2021 /PressCable/ —
Dr. Gordon Jones successfully launched his newest book, "How to Createyourself" on December 1st and it became an Amazon bestseller the same day. To heed the call to a life of success and joy, Jones encourages people to dig deeper on how a true foundation leads not only towards joy but also success. If you wish to learn how to createyourself, you can purchase Dr. Jones' book at Amazon at https://amzn.to/3Iep8xx.
"How to Createyourself" is a ground-breaking new book that will change the way you think about yourself and your future. The author has been in healthcare and technology for decades with plenty of experience as an entrepreneur; he knows what it means when people say they want something different than what the world delivers without personal fortitude and purpose.
The framework and principles in Dr. Jones' book help people discover for themselves to live a long healthy life full of meaning and purpose. His framework for self-discovery is so insightful and engaging that it has helped many people find their true identities. His book includes "Why?" principles, all designed with one goal; to help you createyourself and live the life you can have through your personal fortitude – "if you don't go after it, you won't get it."
How to Createyourself is about what goes wrong on our journey towards becoming better. It explores the psychology, triggers, and circumstances that can lead us astray so you not only learn from them but also avoid repeating those mistakes yourself. Jones uses his own stories and struggles to illustrate how he has overcome bankruptcy, built several tech startups, worked full-time while earning his education, served in the US Army, and together with his wife adopted five special children.
Dr. Jones has had an exciting career that includes two tours of duty in the 82nd Airborne Division, USA. He earned his Masters and Doctorate degrees from Medical University South Carolina (MUSC). With 30+ years of digital health innovation, entrepreneurship, and business development experience under his belt; he has founded many projects resulting in both successes and failures – all great lessons for growth.
He is an industry leader and professor teaching the world of cryptocurrency, blockchain, and decentralized identity. A special bonus chapter teaches you how to protect your personal identity and privacy so you can thrive in the world with the freedom we all deserve.
Release ID: 89056277