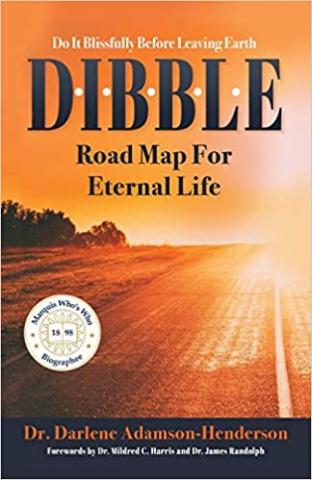 - November 26, 2020 /PressCable/ —
Dr. Darlene Adamson-Henderson, author of the new book D.I.B.B.L.E., is here to help humanity prepare for the world to come. D.I.B.B.L.E: Do It Blissfully Before Leaving Earth is a book that prioritizes saving mankind's soul. The way to do that is to know and understand that there is a God who is almighty, yet ever merciful. In an age full of pain, anger, and doubt, people need to be reminded that the current life is temporary, a stop-over before the final destination. The pages will reveal the most wonderful gift the Lord has bestowed upon His creations, and how humans will be able to make themselves worthy of such love and honor.
Many of us have serious questions about heaven. DIBBLE addresses these questions and helps us develop a greater understanding for our eternal destination. DIBBLE will force you to open your mind, heart, and create a passage for God's word to lead you into a blissful state of awareness. This book is filled with wisdom, lessons, and excerpts from the bible (a word that is hidden in DIBBLE). It reveals the greatest priceless gift from God, which leads into blissful eternal blessings. To know Him and get closer to Him should be our lives' greatest pursuit. It is time to DIBBLE and embrace Jesus. All of Him.
DIBBLE will enlighten you to:
● Study Scripture
● Experience God's Presence
● Make Wise Life Altering Decisions
● Wake Up, Take Action, and Be Inspired
● Help You Prepare for Your Final Destination
● Hide Him in Your Heart So You Will Not Sin Against Him
● Challenge Your Faith to Examine Your Walk With The Lord
● Understand The 7 Simple Steps To Assure You Are Heaven Bound
Dr. Darlene Adamson-Henderson is a world-renowned Educator, Consultant, Author, Speaker and Philanthropist. She has 40 years of K-12 experience, counseling, educational leadership, and management. Dr. Darlene passion is to enhance children's lives through education by developing schools. As CEO & Founder of the Heritage Institute Inc., she provides consulting to leaders in education for this purpose. She is also Founder of HIAT (Higher Institute of Arts and Technology), the first charter school in Merrillville, IN. Always one to give back and because of her love of God, she created the JICBS movement (Jesus Is Coming Back Soon), to prepare the world for the return of our Lord and Savior Jesus Christ. She holds a Doctor of Theology from GMORE Theological Seminary, a master's in education from Cambridge College, and Bachelor of Science from Calumet
To purchase your copy of D.I.B.B.L.E visit https://drdarlenespeaks.com/
Release ID: 88983637