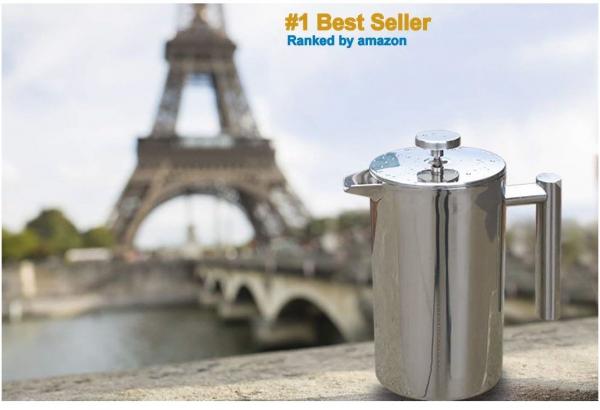 - July 13, 2021 /PressCable/ —
SterlingPro announced that its double-wall Stainless Steel French Press has received the Amazon's Choice badge, which highlights highly rated, well-priced products. With its convenient size, double filter, and ergonomic handle, the French Press is suitable for brewing flavorful coffee, tea, and other hot and cold drinks.
More information is available at https://www.amazon.com/s?k=French+press&rh=p_78%3AB00MMQOZ1U%2Cssx%3Arelevance
The newly announced badge is based on over 5,000 positive ratings and reviews from customers who were satisfied with the product. The SterlingPro French Press also received the "2018 Best French Press Award" by a verified Amazon expert in 2018.
French press-brewed coffee is appreciated by coffee lovers for its flavor and viscosity. Unlike conventional coffee machines, a French press does not take up counter space and is very easy to use and clean. It is also an eco-friendly way of making coffee, since no paper filters are used and no waste is produced.
SterlingPro's Stainless Steel French Press is a durable alternative to classic French presses with glass beakers, which can break easily. Its simple design and a classy mirror finish make it a stylish kitchen accessory. The coffee maker comes in 2 sizes – 1L and 1.75L.
When coffee is brewed in a French press, coffee grounds can often get in the drink, which can be unpleasant. SterlingPro's French Press prevents this problem with a two-screen filter system which ensures that even the finest grounds do not get into the cup. The French Press is sold with an extra set of filters, subject to availability.
The French Press can also be used for brewing hot chocolate, loose leaf tea, fruit infusions, and refreshing drinks, such as iced tea, cold brew, and lemonade.
"I have a coffee maker, but decided to try making coffee using a French Press – this French Press has brewed some of the best coffee I have ever tasted," said a satisfied client. "I am very strict when it comes to brewing, and have never experienced the results that this French Press has produced. It's very durable, of exceptional quality, and will keep hot liquids moderately warm for a while."
Interested parties can find more information by visiting https://www.amazon.com/s?k=French+press&rh=p_78%3AB00MMQOZ1U%2Cssx%3Arelevance
Release ID: 89035542