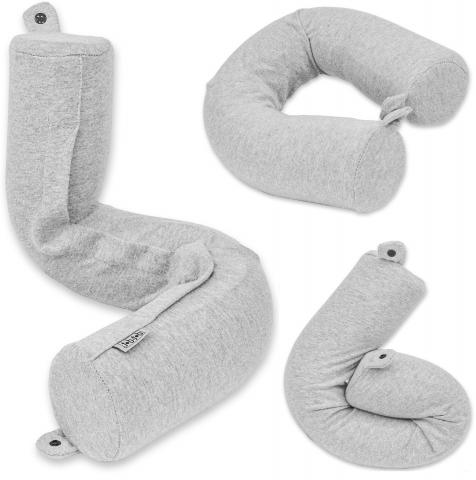 - January 21, 2020 /PressCable/ —
There's no doubt at all. Travel, whether by car or plane, often puts a great deal of stress on the neck, which leads to back pain and general discomfort across the body. Add this up over a few trips and not just aches but real issues may end up on the traveler's menu. Fortunately, relief is out there; it is easy-to-obtain and completely affordable, and very well proven. In that spirit, travel accessory brand leader Dot&Dot recently celebrated the news that their primary product designed to address these issues, the Dot&Dot Travel Pillow has reached the 2,000 review mark on Amazon.com. A remarkable accomplishment that points to its superior nature as a travel relief aid, that delivers exactly what it promises in addition to being built to last. The enthusiasm surrounding the travel pillow continues to be high and rising.
"We knew we had a remarkable product in our travel pillow," commented a spokesperson from Dot&Dot. "But seeing the word about it catch on and spread mainly through positive feedback has been an amazing experience for us. It shows if you put your heart and soul into producing quality and backing up with first-class customer service, real magic can happen."
The Dot&Dot Travel Pillow can easily be used air planes, trains, buses or cars, making sleep much more comfortable. Its twistable body makes it ideal for nearly any body type no matter how picky they are about their pillow positioning. It can be used to support the head, back, shoulder, or cervical spine during a nap, just relaxing, watching television, reading a book, on a bed, couch, or even on the floor.
The pillow is both simple and easy to clean and carry, making it an ideal travel companion saving time, rather than creating more annoyances for a trip. It has a machine washable cotton cover that comes off easily and can be machine washed with normal laundry, without worries.
The feedback for the Dot&Dot Travel Pillow continues to be positive across the board.
Julie S., from New York, recently said in a five star review, "I adore my Dot&Dot Travel Pillow. I take the train to commute and this has been a life savior. It's been my favorite present ever. Fully recommended."
For more information be sure to visit https://www.amazon.com/Memory-Travel-Pillow-Lumbar-Support/dp/B01IEJHJWK/
Release ID: 88943547