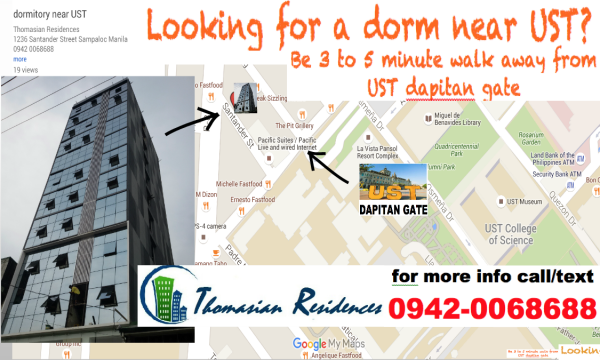 - March 6, 2016 /PressCable/ —
Thomasian Residences announced the availability of a new Dormitory near UST (University of Sto. Tomas) beginning january 2016. More information about this dorm can be found at http://thomasian-residences.rippledigitalmarketing… or interested parties may call 0942 0068688.
Thomasian Residences today announced the opening of a new Dormitory near University of Sto. Tomas for students and reviewees in need of a good Dorm near Sampaloc Manila specifically near UST (University of Sto. Tomas). This modern student accommodation is ready to accept reservations and serve students starting January 2016.
Everyone involved in the business is looking forward to this launch, since they are excited to serve everyone who needs a temporary abode near UST Dapitan area. Thomasian Residences is more than happy to be "A home away from home."
Ms. Kathy Lim, Marketing Officer at Thomasian Residences, when asked about the New Dormitory has this to say: "Thomasian Residences is excited to serve students and reviewees who are in need of a place to stay near UST. Several occupancy options are available to choose from to best suit our client's preferences. Visit Thomasian Residences at 1236 Santander st. Sampaloc Manila to check out the actual rooms to better appreciate. Call or text 0942-0068688 for more information."
Students looking for a Dormitory near UST (University of Sto. Tomas) will be happy to know that there is a new modern student accommodation ready to be occupied
Convenience is the primordial consideration why students choose to stay in a dormitory. With its strategic location, Thomasian Residences is walking distance to UST. It is just 3 to 5 min walk away from UST dapitan gate. Imagine the convenience it will bring to students to be just a few steps away from school. Students will no longer waste their time and energy in useless traffic from daily commute to and from home and school. Thus more time for study, extra curricular activities, rest and sleep.
This Dormitory near UST (University of Sto. Tomas), Thomasian Residences, will offer flexible room occupancy options. Students can choose single, double, triple and quad sharing options. Rooms have customised beds thus making it easy to convert rooms as the student desires. This aims to accommodate the preferences of the students if possible. Subject to availability, there are rooms with seperate toilet, lavatory and shower area – Kathy Lim said "This is an advantage because it allows simultaneous use of the areas by 3 students thus less waiting time for the students to get ready for school."
Those interested in finding out more about Thomasian Residences can do so by dropping by or visiting the business website at http://thomasian-residences.rippledigitalmarketing… or visit the Facebook page https://www.facebook.com/Thomasian-Residences-8386… Those needing more info can get in touch directly with Thomasian Residences at 0942-0068688 via call or text.
For more information about us, please visit http://thomasian-residences.rippledigitalmarketing…
Contact Info: Name: kathy lim Email: thomasian.residences@gmail.com Organization: Thomasian Residences Address: 1236 Santander Street, Sampaloc, Manila Phone: 0942 0068688
Release ID: 106104