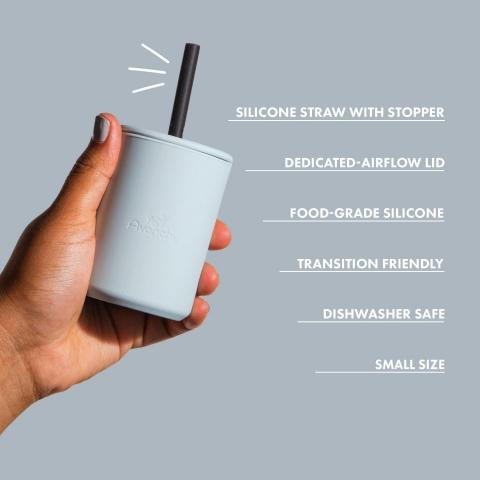 - November 23, 2021 /PressCable/ —
Avanchy is proud to announce the launch of two new products to make mealtimes more fun for everyone. Our medium-sized toddler cup joins our high-quality lineup of silicone cups. At the same time, we're excited to kick off our line of stainless-steel baby cups. Learn more about our latest offerings and discover how each product holds up the Avanchy promise of being safe, functional, and sustainable.
New 8 Oz. Avanchy La Petite Medium Silicone Baby Cup
The newest product in our silicone baby cup lineup is the 8 oz. silicone La Petite baby cup. This medium-sized, 8 oz. cup is slightly bigger than our 5 oz. La Petite, making it ideal for your growing toddler. Like all of our silicone cups, our new 8 oz. cup is lightweight and easy to hold. The transition from bottles to cups has never been easier!
All Avanchy silicone products consist of food-grade silicone that is durable and easy to maintain. Silicone is a nonporous material that helps minimize bacteria and keep your dishware clean and safe for your little one.
Upcoming Stainless Steel Cup Line
We're also excited to announce our new double-walled, stainless steel baby cup line. Avanchy stainless steel dishes offer incredible durability, making them easy to use and maintain no matter what parenthood throws at you. With a sleek and shiny look, these beautiful products have long been a favorite of ours. That's why we're adding them to our collection.
Like the rest of our stainless-steel dishware, our new baby cups consist of 18/8, food-grade stainless steel with double-wall insulation to keep drinks warm or cool for longer. Our stainless-steel line offers the same comfortable and easy-to-use design you know and love with a durable material that makes mealtimes—and the cleanup that follows—easier than ever before.
Why Avanchy Baby Cups Outshine the Rest
Like all baby cups in our collection, our new products are environmentally friendly, easy to maintain, and safe for your little one. Avanchy baby cups are perfect for toddlers who are transitioning from bottles to normal cups. The lid and straw design helps minimize messes as your kid learns how to pick up and hold their cup. Meanwhile, the removable lid helps your little one learn how to drink with and without a straw as they start using their cup more and more.
At Avanchy, we put safety, function, and sustainability at the forefront of all our product designs. All our products are free of BPA, PVC, plastic, and lead. Our silicone and stainless-steel products are also dishwasher friendly, making them durable and easy to clean.
Check Out the New Collections at Avanchy Today!
Don't miss the new silicone and stainless-steel toddler cups available at Avanchy. Explore our new collections today and see how our beautiful, high-quality dishware can transform mealtimes for you and your little one.
https://avanchy.com/products/la-petite-8oz-silicone-cup
Release ID: 89053528