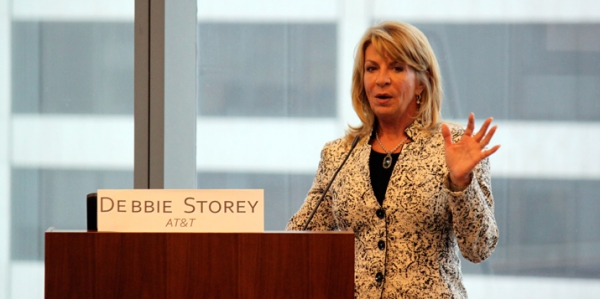 - September 20, 2017 /PressCable/ —
During her Atlanta high school years friends knew Debbie Gohr as a bright, always smiling, funny & well rounded friend. She was captain of her senior year cheerleading squad, the All American girl completely without pretension.
Things were much the same throughout her undergraduate years at University of Georgia. Gohr joined a sorority & was an earnest but fun loving psychology major. What few friends knew is she also helped manage her dad's chain of Atlanta restaurants 70 miles from Athens.
This offers only a glimpse of what Gohr would go on to achieve.
There are gurus in the business world today who define multitasking as an overrated virtue. Those who attempt to multitask lose hundreds of productive hours a year at the expense of truly getting important things done. Try telling that to Debbie Gohr Storey.
In her book, "Don't Downsize Your Dreams: Leadership Inspiration for Women", newly retired AT&T Executive Vice President Storey talks about finding and pursuing passion, determining one's personal definition of success – and taking control to achieve it.
Don't Downsize Your Dreams is a most entertaining work, carrying the reader through a journey from customer service clerk to EVP of a Fortune 10 company, sharing the stories of celebrated successes and agonizing mistakes, personal triumph and unbearable tragedy.
Along the way Storey became a multitasking phenom. Throughout her 34 years with AT&T she advanced in the areas of customer service, sales, operations, network, mergers & acquisitions and human resources. Just imagine it.
Imagine one spending their early 20's running customer service & then being asked to take over sales & business development, without any prior sales experience. Imagine running operations in a publishing company & being asked to step into a transformational role in the telecom network organization. As anyone who has experienced any change in position can attest, stepping into new & entirely unfamiliar roles can be daunting. Yet Storey did just that more than 10 times in her career with AT&T.
That's why books like "Top 10 Habits of Successfully Driven Visionaries who Thrive on Swimming with Chaotic Sharks" become best sellers. OK, there is no such book, but Storey could write it.
And she might.
She tried very very hard to retire in 2016. But the world would have none of it. Storey's 2017 schedule is filled with advisory roles and speaking & consulting engagements, where she shares keen insights on leadership, diversity, inclusion & visionary management style.
Storey was the April recipient of the University of Georgia's Terry College of Business 2017 Distinguished Alumni Award.
More of Storey's career awards include:
– Top 10 Champion of Global Diversity, Diversity Global Magazine
– Woman of Inspiration Award, Wind Enterprises
– Top Executive in Corporate Diversity, Black Enterprise Magazine
– Feminist Press Woman of Inspiration Award, The Feminist Press
– Women to Watch, Diversity Journal
Debbie & friends tell her story. Thank goodness someone had the good sense to film it. And then she gives thanks.
Even in retirement or non-retirement, whatever, Debbie Gohr Storey remains completely without pretension. Just do not tell her she can not multitask. Those who do may find themselves swimming with chaotic sharks.
Don't Downsize Your Dreams is available in paperback and on Kindle. Go to Amazon & buy this book today.
Release ID: 240563