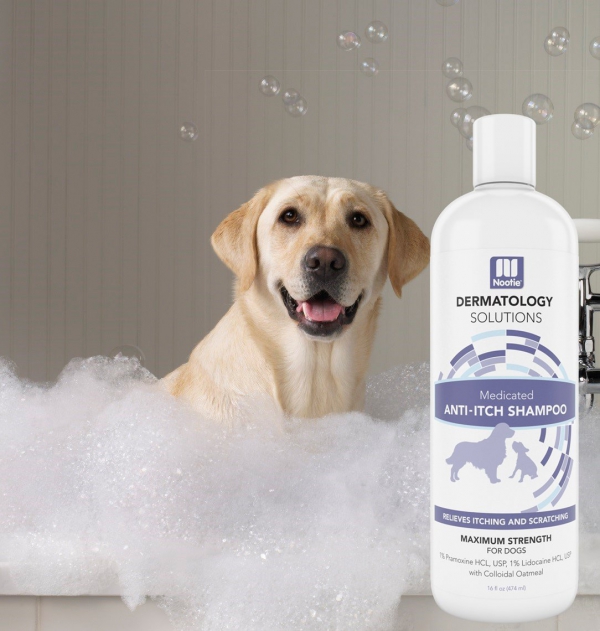 - November 23, 2016 /PressCable/ —
Nootie states that they will be holding a Thanksgiving Day sale on their dog shampoo. This medicated dog shampoo has a close to full-star rating on Amazon. The product is loved by both dogs and dog owners for multiple reasons.
The Nootie brand manufacturers all of their products in the U.S.A. This allows the Nootie team to keep a close eye on ingredients, as well as the production process. Because the company believes in always keeping a high standard for their pet care products, keeping the company based in the states is a top priority.
"We love being able to keep our company in the United States of America," a Nootie representative comments. "In addition to being able to create a quality product, being able to create jobs and add to the local economy means a lot to us."
Customers have commented on how much their dogs irritation and allergies improved after being bathed with the Nootie medicated shampoo. One says, "My beagle/ yorkie has really itchy skin so i couldn't wait to get this shampoo to try it out on her! We have tried a lot of different shampoos over the years and some helped a little and some did nothing at all. I have bathed her twice since getting this shampoo and i notice it helping a lot! I don't notice her chewing on her legs as much as she use to and the redness is almost gone on her belly!"
Not only that, but buyers have also commented on how pleasing the scent of the dog shampoo is as well. "This medicated shampoo has improved her scratching a little. It is nice and thick and lathers well. It has a nice smell and has not caused my pup any irritation. Her coat is nice and clean and shiny. I am very pleased with my purchase. This product arrived quickly and was packaged safely."
Visit http://www.amazon.com/dog-shampoo/dp/b0108lvnhe/ to see customer reviews, ratings, images and video. Nootie has been crafting dog shampoos and conditioners for over 30 years. Their entire product line features everything from dog shampoos to anti-itch sprays.
Release ID: 147743