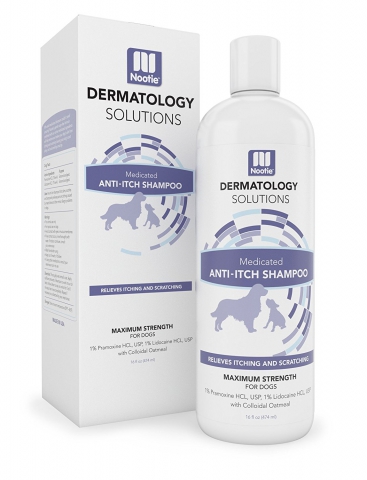 - January 31, 2017 /PressCable/ —
Nootie has added a new pet care product to their trusted pet care line and it involves colloidal oatmeal, which is is known for its soothing and calming qualities. It is becoming a popular treatment for skin issues and Nootie's realized that the same ingredient could be applied to pets seeking relief. They've added oatmeal to their medicated dog shampoo for dry skin, available at https://www.amazon.com/Medicated-Anti-ITCH-Formulation-Lidocaine-Pramoxine/dp/B0108LVNHE .
According to the product description, "Pet care products for dogs are our passion. This gently anti itch dog shampoo is the perfect pet shampoo for dogs with allergies, sensitive skin, recurring dryness, or any similar skin condition."
One Nootie customer writes, "Bought this stuff for my itchy dog and she now doesn't itch. I've used prescription shampoo, oatmeal shampoo, and that other pink stuff and nothing has worked until now. Mugsy thanks you." Another customer commented, "Kilo gets itchy from swimming in the lake when it doesn't rain and the water doesn't freshen up—-other than the fact that we had to shampoo him for 5 minutes (he hates baths) it worked wonders. A definite 5 stars! Thanks!"
Another pet owner commented on the oatmeal dog shampoo , "This product is amazing. Helped relieve my dogs itching, and unlike other products it didn't give him an adverse reaction! Will continue to buy!"
Nootie also uses 1% Pramoxine HCL and 1% Lidocaine HCL in conjunction with the oatmeal to create a maximum strength product. The shampoo won't cause any stickiness and won't cause any clumping. Customers have also commented on how much they love the scent of this medicated shampoo. One customer writes, "I liked the smell and the feel of my dogs fur after using this shampoo… It really made my dogs coat shine… Fair price for a quality product ='s 1 happy customer."
Please visit Amazon to purchase or learn more about Nootie dog shampoo today.
Release ID: 165006