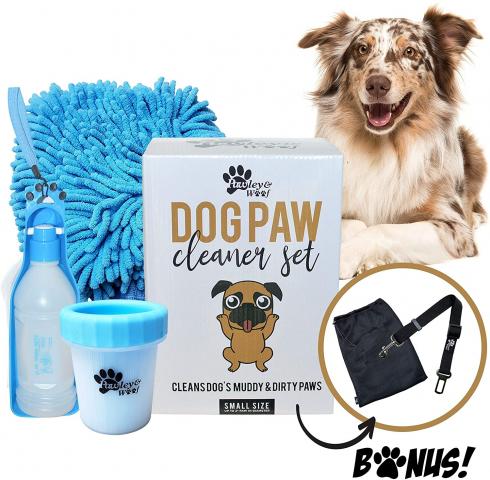 - June 16, 2020 /PressCable/ —
Our pets love to explore and be adventurous which will lead them to the dirtiest of places – chances are dog owners don't put booties on their dog when heading out for a walk. With Pawley & Woof Dog Paw Cleaner Kit, a man's best friend can have all the muddy, sandy fun in the world and not have to worry about tracking said dirt into the home or vehicle.
To prevent dogs from dragging unwanted dirt or mud into the house and tracking all over the floor, bed, or a couch, Pawley & Woof has released a dog paw cleaner kit, especially designed for active dogs. Dog vets and groomer advise to clean the dog's paws well after an outing especially in the winter months with salted sidewalks.
What makes this set different from others is that it includes additional extras: a microfiber glove to dry the dog's paws after washing them, a travel water dispenser, a dog seat belt to keep ya dog restrained in the car, and a travel bag for all the items.
The paw washer features soft silicone bristles and a BPA-free tumbler. Just fill the tumbler with water and optional pet-safe soap, insert the dirty paw, and give it a few back-and-forth twists. Repeat for other paws as necessary.
Both the tumbler cup and silicone bristles are top-rack dishwasher safe for easy cleaning and sanitizing; it can also be easily rinsed in the sink and the grooming glove is washing machine safe.
The dog water bottle is an all-in-one time saver that is super lightweight and incredibly simple to use. When the dog is ready for a break, simply fill up the bottle from a nearby drinking fountain (or pre-fill it at the house), then click the bottle open to let gravity do its job and let the water spill out into the built-in water bowl. If the water does not come out, a light squeeze of the water bottle will do the job to get it started. This reusable pet water bottle is also useful for weekend trips, overnight visits or holidays with relatives.
To purchase one for yourself, family or loved ones, visit:
https://www.amazon.com/s/?keywords=dog+paw+washer&ie=UTF8&field-asin=B07TMZVJR2&rh=i:aps,ssx:relevance
For more information on the product, visit:
https://www.amazon.com/DOG-PAW-WASHER-CLEANER-CUP/dp/B07TMZVJR2
Release ID: 88963459