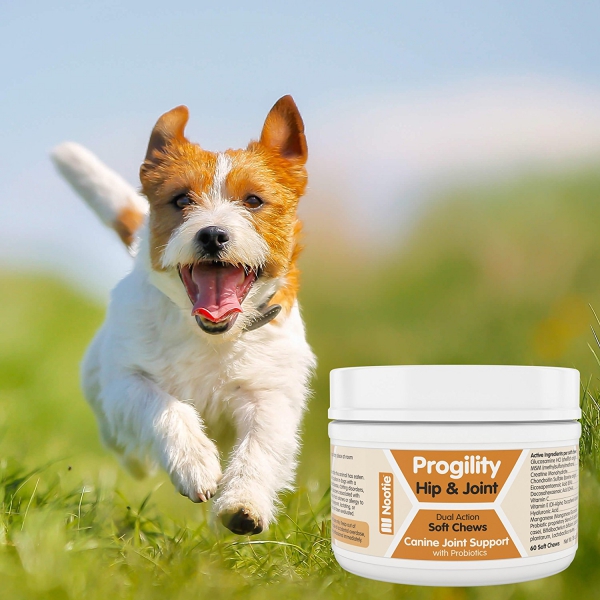 - November 21, 2016 /PressCable/ —
Nootie, a trusted name in the pet care industry, is excited to announce a new product. Their dog glucosamine treats are one of the few dog joint supplements on the market to contain hyaluronic acid.
A Nootie representative says, "Hyaluronic acid has been used by humans to assist with joint problems for a long time. We thought that it would be a great application for dogs as well, and our findings proved that to be true. Pet owners will be overjoyed when they see how well their pets react to the Nootie joint supplements." An Amazon customer writes how much their dog's mobility has increased since taking this product. They write, "Great product! I have a black lab that is seven years old. He is very active and the last couple of years he has slowed down a lot in his movement. I have had this product for 21 days and have seen an improvement in his movement. He is running around the yard more and is willing to get off his bed more frequently. I can't wait to use these during hunting season when he is wiped out after hunting with my husband. My lab also loves to eat these, he thinks they are a treat."
The great taste is something that dogs have been loving. Even picky eaters think that these joint supplements are a delicious treat. "This supplement has been wonderful for my senior dog. She has a hard time getting around and in a very short time, I have already noticed a difference. She seems to really like the taste and takes them without hesitation. They are soft so that is also a good thing as she ages. I would definitely recommend this supplement especially since it has such a high level of glucosamine compared to other brands."
Nootie has been creating pet care product for 30+ years. The company likes to keep innovating in order to improve the health of dogs in anyway that they can. All Nootie pet care products are made in the U.S.A. Go to http://www.amazon.com/dog-glucosamine/dp/b01g7gyag… to purchase Nootie Progility Hip And Joint Supplements For Dogs.
Release ID: 147393