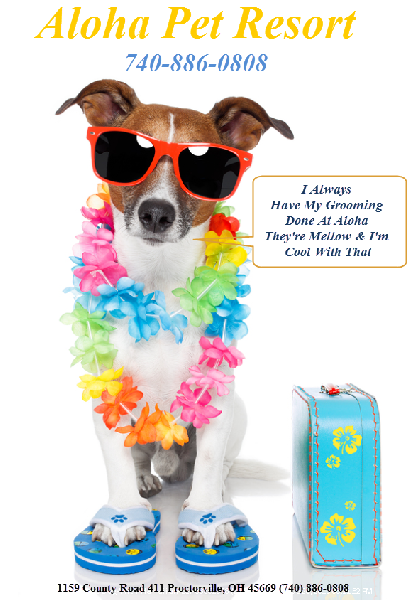 - August 29, 2014 /MarketersMEDIA/ —
Proctorville, USA – August 29th, 2014 /PressCable/ —

Aloha Pet Resort located at 1159 County Road 411 Proctorville Ohio Now has IPG Certified Groomers
Aloha Pet Resort provides professional dog and cat grooming as well as long term boarding and doggie daycare for the Proctorville, Ohio, Huntington, West Virginia and Ashland, Kentucky areas.
Cara Nelson Owner of Aloha Pet Resort in Proctorville, Ohio sent two of the resorts professional dog and cat grooming specialists to the IPG Salon Certification Course.
The popular IPG Salon Certification Course is an intensive two day affair and includes classes on various grooming techniques and styles for all breeds. This program is introduced by the International Professional Groomers, Inc. to prepare pet care professionals to handle the animals in their care in a safe and professional manner, and demonstrate their basic "kennel trim" skills. These certifications are awarded by IPG Independent Evaluators, setting these skilled professionals apart from their peers and validating their qualifications and professionalism to the public.
Dogs101 Host Joey Villani was a presenter and the stage was shared by everyone from 1st time groomers to Groom Team USA Gold Medal Winners during the grooming contests.
" We are very proud and excited to be IPG Certified and we want to thank Aloha Pet Resort owner Cara Nelson for believing in us and giving us this opportunity to learn from the very best professional groomers in the country. We learned many new updated grooming techniques to give your pets the best of care while at Aloha Pet Resort." said Kim & Tia Holycross Certified IPG Groomers.
You can view the new certificates proudly displayed in the lobby of Aloha Pet Resort in Proctorville, OH.
Aloha Pet Resort is owned and operated by Cara Nelson. She is a pet enthusiast who makes leaving your pet stress-free.
"All of our employees are animal lovers. We offer plenty of love and affection to our guests. Employees give lots of cuddle time, and petting to every dog and cat boarded here. We treat every pet like they are part of our family. With hundreds of satisfied customers around the tri-state area we know you will be pleased with Aloha Pet Resort. We have created a place pets will love, and you can rest assured that your pet will come home happy and carefree." said Owner Cara Nelson
For more information visit the website here Aloha-PetResort.com or call for an appointment at 740-886-0808.
Aloha Pet Resort is a full service pet resort established in 2001 that specializes in dog & cat grooming, long term boarding and doggie daycare. Aloha Pet Resort is located at 1159 County Road 411 Proctorville, Ohio 45669 Phone:740-886-0808 Website: http://www.Aloha-PetResort.com Cara Nelson also owns the Rome Pet Cemetery & Pet Crematory located next door in the same building. http://www.RomePetCemetery.com
Contact Info:
Name: Cara Nelson
Organization: Aloha Pet Resort
Website: http://www.aloha-petresort.com
Phone: 740-886-0808
Address: 1159 County Road 411, Proctorville, OH 45669
Release ID: 61093