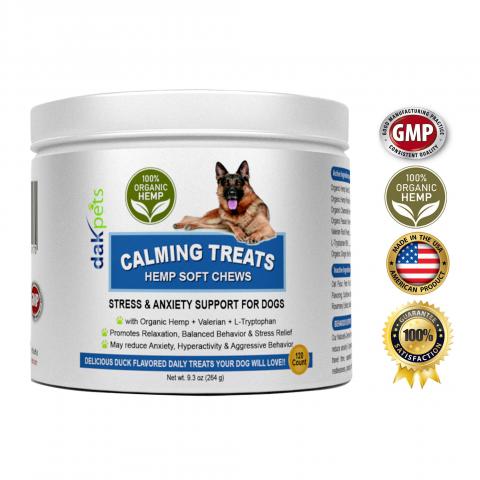 - June 27, 2018 /PressCable/ —
DakPets, an acclaimed manufacturer of top notch pet care products, has just started offering a money back guarantee on their recently launched dog calming chews. With the introduction of this offer, all Amazon shoppers will be able to request a complete refund, if they are not fully satisfied with their purchase. The new Calming Treats for Dogs from DakPets has been formulated by combining the healing properties of several natural ingredients capable of functioning as efficient pet relaxant aids. The product is currently available on Amazon.com for a discounted price of $15.59, by using coupon code PKJARXVC.
Keeping their favorite pets stress and anxiety free, is a great challenge for all dog owners. Dog anxiety may be caused by several factors such as separation from the owners, exposure to noisy environments, and interaction with other humans or animals. Under these conditions, dogs often tend to get aggressive, hyper active and easily agitated. DakPets informs that their new dog treats can effectively help relieve stress and tension because it contains chamomile flower powder, passion flower powder, and L-Tryptophan. Be it separation anxiety, loud fireworks, thunderstorms, car rides, dog parks or crowded public spaces, DakPets Calming Treats can be used to help pacify all types of dog breeds regardless of their size.
Dog owners often complain about products with a bland taste that their dogs hate to eat. DakPets claims that dogs just love the taste of their new dog treats because of its natural duck flavor. This product is safe for dogs because it does not contain harsh ingredients and fillers such as gluten, wheat, corn, sugars, salts or gumming agents.
Announcing the launch of the money back guarantee, a senior spokesperson from DakPets said, "We are confident about our product and have no doubt that this guarantee will be required in the rarest of instances. However, we understand that this will help all of you purchase our new dog treats with alot of confidence. Just in case we fail to fulfil your expectation, please let us know and we would be happy to help."
More about DakPets Calming Treats for Dogs can be found at DakPets on amazon.com
About DakPets: DakPets is a world renowned pet care brand with an impressive range of products. The company's name is name is synonymous with high quality and exceptional value in pet supplies. All their products are made and developed by professional experts that specialize in different breeds of dogs, cats, and even horses, grooming tools and general pet wellness.
Release ID: 359363