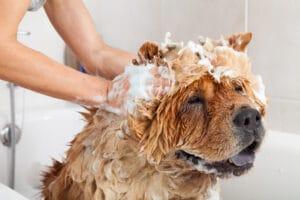 - July 3, 2020 /PressCable/ —
A detailed, informative and helpful new dog bathing guide has been launched explaining how to bathe dogs effectively. The Pooch Lover goes into detail on what to do if dogs hate baths as well as other helpful bathing points, making it ideal for pet owners that want to find out how best to care for their dog and how to give their dog a bath.
More information can be found at: https://thepoochlover.com/how-to-give-your-dog-a-bath
Readers will discover that The Pooch Lover is a website dedicated to publishing top-quality stories and dog-themed content. These include fun and interesting stories about dogs, such as the "Rescue Pooch With Terminal Cancer Becomes Police Dog" article.
Alongside viral dog-related content and in-depth guides, it offers pieces that help owners with training or how to care for their dog in the best way possible, such as "How to Stop Your Dog Jumping Up".
Now they've released a new guide covering bathing techniques. The guide explains that giving dogs baths is a skill that needs to be learned and mastered and that most dogs do not like water.
When dogs hate getting wet, it can make bath time difficult for the owner and for the dog. Placing a towel in an empty bath tub can help, in order to provide secure footing, then placing a treat in the bath and encouraging the dog to get in the tub.
This can be done repeatedly to make bathing quicker and easier. The guide also states that running a trickle of water with the drain open is helpful, as well as distracting the dog with treats and applying shampoo whilst the water rises.
Readers will also find that the guide states to prepare by brushing beforehand, ensuring matted fur is dealt with. Clipping nails before baths reduces the chance of cutting the quick, as the blood vessels dilate with the warm temperature.
In addition to this, applying shampoo to the dirtiest areas of the body first enables it to have more time to deep clean the areas such as paws and belly.
Full details can be found on the URL above.
Release ID: 88966716