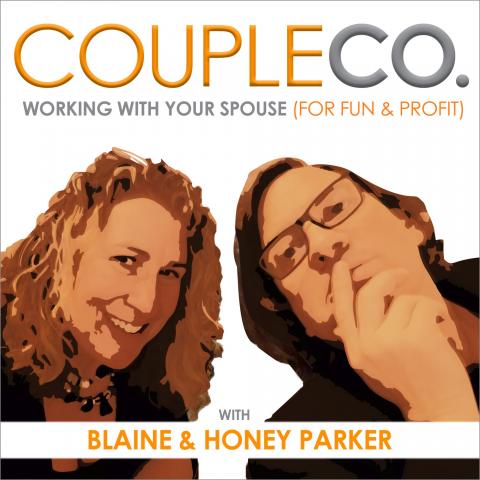 - June 26, 2019 /PressCable/ —
Nobody ever wants to have the sex talk. But here it comes. And it's not what anyone's expecting. It's about married people in business together. Building a business with the one you love can yield a desirable lifestyle with numerous benefits. But it can also lead to a lack of desire in the bedroom. Building a business together as a couple sometimes comes at the cost of dwindling emotional revenue. And that emotional deficit can lead to decreased intimacy. So, what can be done about it?
This is the question being tackled today in a Very Special Edition of "CoupleCo: Working With Your Spouse For Fun & Profit." The show, Episode #75, "Sex & Your Business," is available at iTunes, Libsyn, Google Podcasts, and at www.CoupleCo.com. Married co-hosts Blaine & Honey Parker sit down with noted clinical psychologist Dr. Rachna Jain of InLoveAndBiz.com. Dr. Jain, who has been counseling couples for over 20 years, discusses the challenges of working so closely with one's romantic partner.
This show examines how a couple's business can impact their sex life, why couples lose intimacy, and how boundaries or rules can the relationship a priority. For the couple facing these issues, Dr. Jain explains how to address challenges in your sex life, and how to reconnect and create a greater sense of intimacy. And yes, sometimes it can be as easy as a cheese omelet. (For more on the omelet, you have to listen.)
For over two decades, Dr. Rachna Jain has been focused on helping couples identify and overcome interpersonal and intrapersonal limitations so they can have the relationship they really want. Her interviews on CoupleCo routinely end up among the show's most popular. More about Dr. Jain is available at www.InLoveAndBiz.com
Blaine Parker and Honey Parker have been working together for over 20 years. Their first foray into work partnership was as screenwriters in Los Angeles. Since 2008, they've been partners in Slow Burn Marketing, an advertising agency that specializes in big-brand thinking for small-business marketing. In that time, they've worked with several entrepreneurial couples. Finding that the couple entrepreneur market is underserved, Blaine and Honey launched "CoupleCo: Working With Your Spouse For Fun & Profit" on Valentine's Day 2018. Since then, the show has reached #1 on the iTunes Management & Marketing chart several times. They contend that while it might not be for everyone, working with your spouse has many rewards. Legitimately sleeping with the boss is only one of them. More information is available at www.CoupleCo.com
Release ID: 88889829