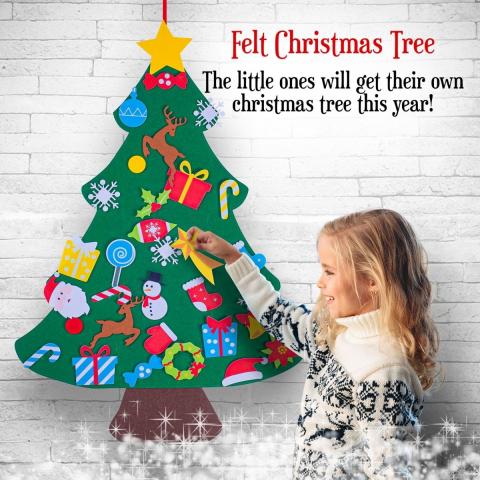 - October 29, 2020 /NewsNetwork/ —
WG Wholesale Inc. has announced the launch of its new DIY Felt Christmas Tree for Toddlers and Kids. The DIY Felt Christmas Tree is a fun way for kids to practice vocabulary, hand-eye coordination, color recognition and motor skills.
For more information, see: https://www.amazon.com/dp/B08KQK79Y2
According to a leading cognitive scientist and child psychologist, babies are born experimental scientists taking in scrolls of information by trying things on their own and tweaking as they go. Being more hands-off helps kids figure out how to problem-solve and create in their own unique ways.
WG Wholesale Inc. has launched the new perfect stocking, safe felt Christmas tree for children to have their own Christmas tree and decorate it their way. Children can decorate the Christmas tree themselves and then tear apart over and over again throughout the holiday season.
The DIY felt Christmas tree kit comes with 33 colorful ornaments including a snowman, Santa, elk, windmill, snowflake, candy, stockings and other ornament choices. The kids' felt Christmas tree is easy to set up, unfold the kit and then hang it on the wall or on a door by a hook or nail.
Watch the video here https://youtu.be/kZuo3hwtRII
At 37.5 x 27.5 inches, the felt Christmas tree has the perfect reach and the right size to serve as a gift for the little ones. The felt tree comes with hook loop allowing the child to attach the ornaments easily.
WG Wholesale Inc. is committed to providing top-quality products that are durable and safe for kids. The Christmas tree felt material is thick and firm and doesn't have a bad smell.
According to a spokesperson for WG Wholesale Inc., "We are excited to announce the launch of our new DIY felt Christmas tree for kids and toddlers with 33 ornaments so children can have their own Christmas tree and decorate it their way. The felt Christmas tree for kids would keep your little ones occupied while having lots of fun this holiday."
The DIY felt Christmas Tree for kids and toddlers with 33 ornaments allows children to own and decorate their own Christmas tree. More information is available at https://www.amazon.com/dp/B08KQK79Y2
Release ID: 88983235