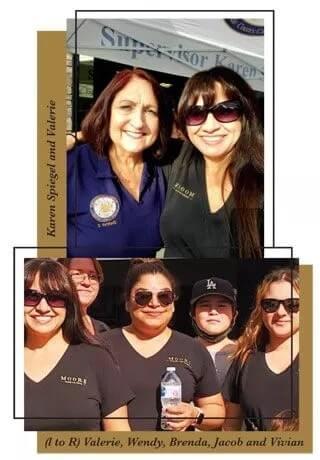 - December 29, 2021 /PressCable/ —
Team members of Moore Family Law Group, a firm of California family law attorneys and other legal professionals, joined one of Riverside county's community cleanup this past month. Spearheaded by Riverside County's 2nd District Supervisor Karen Spiegel, the Community Clean-up events are held regularly around various locations within the county. The program aims to support the Riverside County Department of Waste Resources in its efforts to promote better waste management in the county by empowering and informing residents through voluntary community service.
Moore Family Law Group was represented by Chief Operations Officer Valerie Coleman along with Senior Paralegals Wendy Fox and Brenda Castro, and Executive Legal Assistant Vivian Figueroa. Ms. Castro and Ms. Figueroa brought their children along to start them on the path of environmental awareness at an early age. The group enjoyed a few hours of fun while cleaning up their assigned areas. The event was secured by members of the Riverside Sheriff's Department.
In previous months, Moore Family Law Group participated in a couple of other community events in the area. Ms. Coleman joined the Corona Life Services 5K Walk for Life in Corona and raised more than $2,000 for the cause. Senior Attorney Allen Johncox participated in the Alzheimer's Association Walk to End Alzheimer's.
Moore Family Law Group's commitment to excellence reflects in their involvement with the community around them as well as their belief that something good can be gained from the trash that life sometimes heaps on people. On their website, Holly J. Moore, founder, Moore Family Law Group says, "Internal family strife and issues are akin to the ups and downs of the cycle of life. Seeing a chance for evolution in every situation, looking to extract a positive lesson out of the most difficult and stressful events, can be a blessing and a path to growth."
The firm has offices in Corona, CA, and Newport Beach, CA. They focus on family law and the many practice areas in this field of law. Among these practice areas are divorce, spousal support, property division, child custody, child support, premarital agreements, and several others. The team aims to serve clients by providing them with representation that protects the client's interests. The firm also believes that the experience should give the client a chance to come out of family conflict a better person.
To learn more about Moore Family Law Group, visit their office at 4160 Temescal Canyon Rd #302 Corona, CA 92883. They may also be reached by phone at (951) 463-5594 or through their official website.
Release ID: 89058178