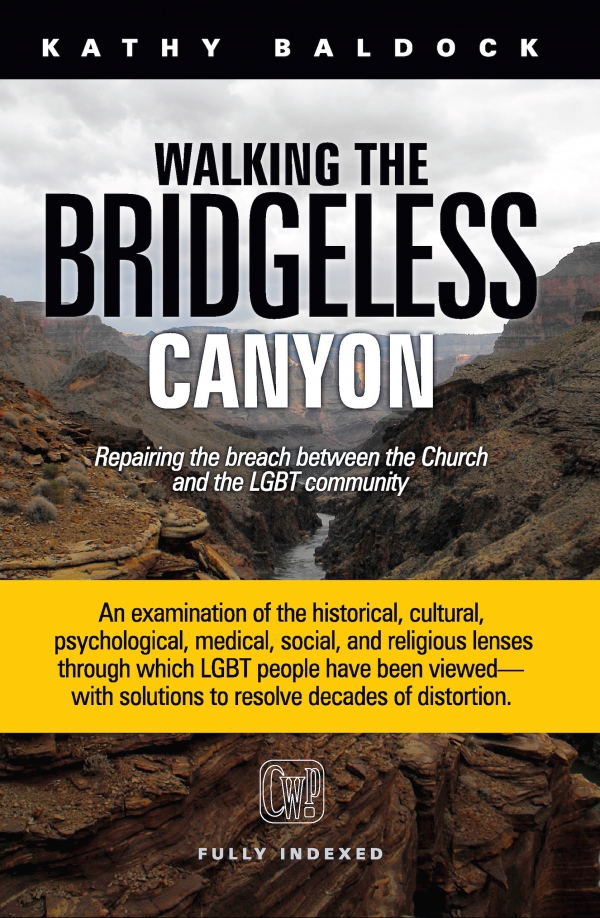 - June 19, 2016 /PressCable/ —
Kathy Baldock, author of "Walking the Bridgeless Canyon", announces the release of a discussion guide to her ground-breaking book.
Walking the Bridgeless Canyon: Restoring the Breach between the Church and the LGBT Community, carefully constructs a historical timeline detailing the social, medical, cultural, political, and religious discrimination impacting the gay, lesbian, bisexual, and transgender communities. The newly released study guide is designed for groups willing to explore the lenses and filters through which LGBT people are viewed. Each of the nine sections reviews parts of the textbook to set up discussions. The material may be frequently challenging, but the structure is simple to follow and allows anyone to moderate the group.
Kathy Baldock is Executive Director of Canyonwalker Connections, and a leading expert on LGBT issues in the United States, especially dealing with historical and current discrimination faced from the socially conservative Christian church and political sector. A graduate of Rutgers University's College of Engineering as well as an accomplished entrepreneur and small business owner, Baldock had no ties to the LGBT community until 2001 when she forged a friendship with a woman who she later found out was a lesbian. Through organic relationship and years of research, Baldock shifted her views and saw the immense need for accessible education in this area.
Baldock currently travels the country speaking in venues from churches to universities, sharing the findings of her research. She engages with a visual timeline in ways that help audience members identify, assimilate, and retain information to guide them in overcoming cultural biases and understand the sources of negative images of LGBT people today. She speaks with conservative Christian pastors and church leaders who may be starting to do further investigation into the LGBT issues their churches have historically stood against.
The original book and the newly released study guide, published by Canyonwalker Press, are available at Amazon, Barnes and Noble, at in bulk online at http://goo.gl/zyHpDx. Those interested in learning more about the author can visit her blog: http://canyonwalkerconnections.com/.
Release ID: 120108