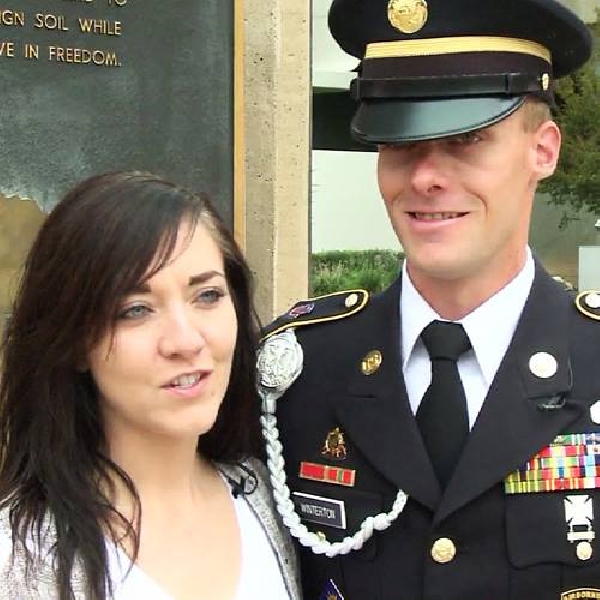 - November 19, 2014 /PressCable/ —
ALS Limousine Service lent a helping ride for disabled veteran Chris Winterton and his wife Sarah on Veterans Day.  The couple were returning to Santa Ana from Utah to celebrate Veterans Day. 
Previously, Chris and Sarah, who still serves in the National Guard, were in Los Angeles last September, preparing to leave on their long awaited honeymoon to Cabo San Lucas. They showed up to LAX airport with bags packed and ready for their delayed honeymoon. 
Sadly, Hurricane Odile decimated at large part of Baja and washed out the couple's dream vacation.  The hurricane caused flights and travel plans to be cancelled.  Their honeymoon dreams were shattered and delayed once again. The Winterton's lost nearly $1,000.00 of their savings to cancellation fees and rebooking of airplane tickets just to get back home.
That's when KTLA caught the Winterons as they were heading back home at LAX. KTLA interviewed them and broadcasted their saga.  A a number of well-meaning people and businesses saw that news broadcast and took action to help the Winterons.
"They both stepped up for our country.  We wanted to step up for them and provide a free and relaxing ride to and from the ceremony," Robert Tranchina, one of the ALS Limousine executives explained.  "It's really just a little something to partially repay the Winterons for their service and losses."
One who really stepped up was Mike Kerr who is a realty manager locally in the city of Orange.  Mike also heard the original story earlier on KTLA and decided it wasn't right that one of our disabled veterans be denied his honeymoon with his National Guard serving wife.  Mike set up a crowd funding site in hopes of raising enough money to send them on their honeymoon. That crowd funding site has raised to date it over $5,000 from people around the nation. 
Mike presented Chris and Sarah Winterton with their gift, more than $5,000 during the Veterans Day ceremony in Santa Ana to help them finally celebrate their long awaited honeymoon.
Miss Placentia's Outstanding Teen 2014, Alana Lee, was also on hand to honor not only the Wintertons but also a number of other veterans.
"I want to say thank you," Sarah Winterton said, "To see all the support just reminds me why we signed up in the first place."
Finally,the Wintertons  will be taking their long awaited honeymoon trip, to Hawaii, in January.
Release ID: 68620