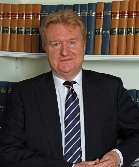 - November 23, 2015 /PressCable/ —
Direct Access Website Launched by Top-rated Criminal Defence Barrister, Dean Armstrong QC
Until recently, if one wanted to retain the services of a top-rated criminal defence barrister or QC, one would have to approach them indirectly using a solicitor.
However, with the launch of Dean Armstrong QC's website http://www.topratedbarrister.com, this is no longer the case. Highlighting Dean Armstrong QC's experience and expertise in defending those who have been accused of all manner of serious crime, the website offers the opportunity to contact him and interact with him directly.
As the prestigious legal directory Chambers and Partners put it: "Dean Chambers is fast reaching the point where there will be no one above him at all."
Dean Armstrong QC, perhaps uniquely, worked in the City before being called to the Bar. Using his financial background, therefore, his high-profile practice has gained an enviable reputation for those facing financial-related criminal accusations, such as fraud, cheating the revenue, tax evasion, money laundering, LIBOR and FOREX manipulation, VAT and MTIC and other related charges.
In addition to the above fraud-related areas of law, Dean Armstrong QC has particular expertise with respect to cybercrime-related charges, as well as appealing existing criminal convictions.
Dean Armstrong QC's robust approach when defending clients has given rise to his reputation for preventing charges from even getting to court. He does this by seeking to vigorously undermine the bases upon which the charges were brought.
Dean Armstrong QC recognises that the perception of barristers can sometimes be somewhat intimidating. However, as is apparent from this video of Dean describing his experience as a criminal defence barrister he is most approachable and down to earth.
Although Dean Armstrong is London-based, he represents clients all over the country. He is happy to discuss the legal issues of prospective clients without obligation either face to face or over the telephone. He also offers a video-conferencing service.
Release ID: 97251