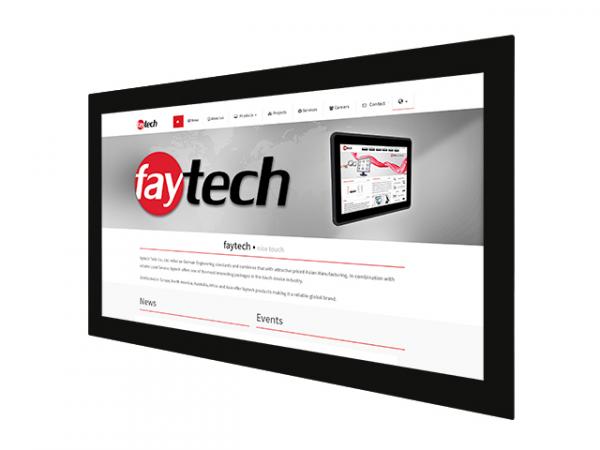 - September 14, 2018 /PressCable/ —
Earlier today, faytech North America announced the release of the Open Frame Monitor series. This is a new addition to the faytech Touch Screen Displays, which have been in development since 2015. The main aim is to offer a variation of the popular touchscreen displays in a light weight model without any back case. This design makes it perfect for integrating into an already existing design or system, or to mount it at different locations. On top of this, the price will be more economic, because fewer parts are needed. It is the perfect interactive solution for digital signage, classrooms, meeting rooms, industrial automation, shopping malls, hotels and many other areas.
Jesse Cooper, CEO of faytech North America, stated: "faytech wanted to try something new with Open Frame Monitors. People familiar with the touch screen technology market will probably have noticed how businesses and organizations using non-open frame monitors experience challenges in integrating the touch screen devices due to factors such as non-compatible designs, additional weight and other aesthetic factors that do not create the flush enclosure that the Open Frame Monitor series provides. The Open Frame Monitors solve that common problem because an Open Frame Monitor (OFM) is a display device mainly situated in a bare metal enclosure and it does not usually include a bezel. It is instead typically supplied with an outer metal flange for mounting. Electronic components are fastened to the inside of the metal chassis and are typically items like display controller A/D board, harnessing, and possibly internal power supply. Open frame monitors offer flexibility and can be easily configured for many different applications just by adding components to the internal chassis. It can easily be integrated into a product design using its flange mounting system."
The faytech North America Open Frame Monitors are designed with a touch panel that is optically bonded to the LCD panel, which will improve the stability, reduce the reflection, increase the viewing angle, and enhance the perceived brightness of the display. It also provides resistance to dust particles and shows a better image in general. faytech North America chose to make this move because the Open Frame Capacitive Touch Monitors are the perfect choice for industrial and business applications. The capacitive 10-finger multitouch panel brings an easy using experience for a wide range of applications. Each model in this series is built for reliable and extended service by using an A+ quality HD LCD panel with energy efficient LED technology. It is equipped with a wide range of standard connectors, such as HDMI, DVI, VGA, USB-Touch, Serial (remote control) and DC-In. Additionally, the display has high brightness of 1000 cd/m2.
Jesse Cooper also said "The faytech commercial and industrial-use customers now have access to a touch display product line that offers a significant price savings since less parts are needed in the manufacturing of the device. This series is the perfect interactive solution for digital signage, classrooms, meeting rooms, industrial automation, shopping malls, hotels and many other areas. The streamlined appearance of the faytech North America Open Frame Monitors is the perfect touch display integration in customized use cases and there has been tremendous feedback from commercial and industrial customers."
The faytech brand has been around for 12 years and faytech North America emerged in 2011 to serve the USA and Canada. faytech specializes in the design, development, manufacturing and marketing of touchscreen monitors and touchscreen PCs. With its roots in Germany, faytech today sells and supports Touch Monitors and Touch PCs on a worldwide basis.
The Open Frame Monitor series is available now. Please contact the faytech North America Open Frame specialists to determine the best solution for a specific use case scenario.To learn more, visit https://www.faytech.us/touchscreen-monitor/capacitive/open-frame/
For additional information about faytech North America, visit https://www.faytech.us/
Release ID: 407423