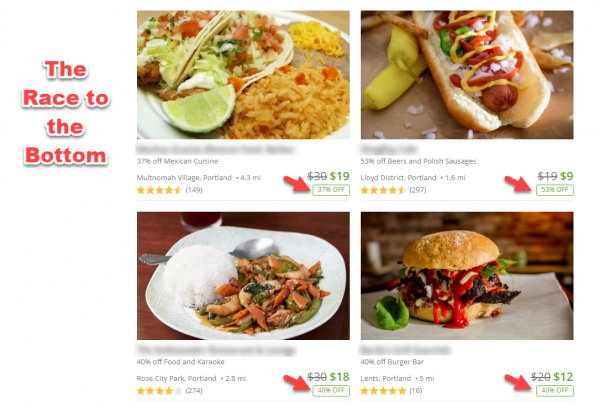 - September 15, 2018 /PressCable/ —
2018 is a fiercely competitive year for restaurant owners. There are more restaurants opening than closing year after year. Yet all these new restaurants are still competing on the same few channels to reach customers.
Levi Heiple, owner of the Diners on Demand agency, refers to this problem as the "race to the bottom."
There are only a few reliable platforms for restaurants to reach customers, such as Facebook, Groupon, Open Table, etc. The increasing competition drives up the cost to reach these customers. Restaurants are forced to take more extreme measures to reach their customers (usually in the form of steeper discounts.)
"Every year, restaurant owners are forced to discount their offers more and more just to get attention," says Heiple. "It really is a tragic situation. There's always someone willing to offer a lower price, and then everyone else is forced to lower prices just to compete."
Heiple predicts the consequences of this increased competition:
"I think that the increased competition from this year is going to force many restaurant owners to seek alternative marketing solutions. Unfortunately, it's just not enough to simply offer great food and customer services. Restaurant owners are finding they need to think about marketing if they're going to make it in today's economy. Visibility is essential to survival."
Heiple says there is hope for restaurant owners who recognize these downward trends early enough. Restaurant owners do not have to rely on competitive platforms to bring in business. The technology is available for restaurant owners to create their own marketing platforms without having to compete side-by-side with other restaurants.
The details on Heiple's recommended strategy can be found on his website. There is no fee or email opt-in required. Interested restaurant owners are encouraged to read the free content to stay informed on how to market their restaurant in 2018 and beyond.
Release ID: 408013