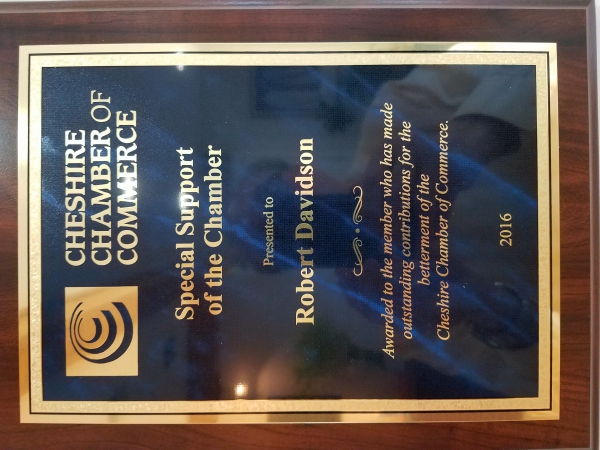 - February 25, 2017 /PressCable/ —
RP Design Web Services was named winner of the Special Support of Chamber Award beating out over 260 other chamber members competing for top honors. The Cheshire Chamber of Commerce presented the award to RP Design Web Services at Aria in Prospect CT, at the 2016 Annual Chamber Meeting. Details about the award can be found on the Chamber website at http://www.cheshirechamber.org.
Potential award recipients were required to nominated by the Chamber for outstanding contributions to be in contention for the Special Support of Chamber Award and were judged based on member surveys for companies that contributed to the betterment of the Cheshire Chamber of Commerce. For years, RP Design Web Services has acted as pro bono volunteer and trusted advisor for the chamber web presence. Robert Davidson, PhD, President of RP Design Web Services was pleased about the company's performance, saying:
"RP Design Web Services has worked hard since joining the Cheshire Chamber to provide the best web services, designin, hosting and supporting an early chamber website, advising on the use of web technology to promote the chamber and granting the use of a Reputation Management Appllciation to survey chamber members. It is exciting to see all of the hard work pay off in this award. Although the award is presented in my name, it is really for the entire RP Design Web Services Team who have contributed valuable design, programming and marketing expertise."
RP Design Web Services provides comprehensive digital marketing services, ranging from from customized SEO to content development, e-mail marketing, ad-based and pay-per-click campaigns, social media marketing, reputation management and more. To leverage all online marketing resources to create a solid brand image, the company works closely with the client and with SEO and web design experts, as well as content and video producers. Constant online marketing reports and evaluations are provided, so that the clients are aware of the potential opportunities and vulnerabilities of their online business.
The company has more than a decade of experience optimizing websites for a variety of businesses across many industries, and it offers complete, fully-personalized digital marketing services and offers free web advertising evaluation reports.
Persons interested in learning more about RP Design Web Services marketing and advertising can visit the company website at http://www.rpdesign.com/internet-marketing.
Release ID: 173056