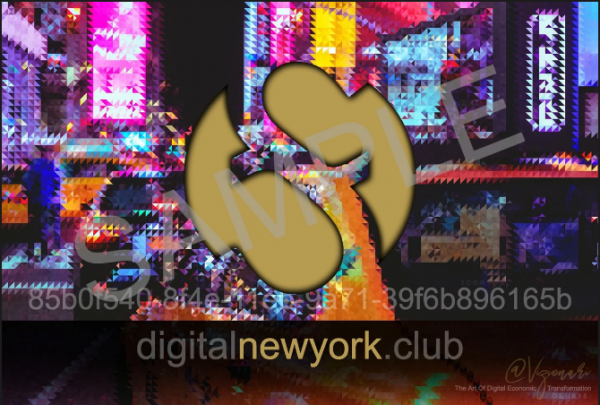 - May 6, 2021 /PressCable/ —
SMARTR Joint Venture Capital Corporation announces the upcoming launch of SMARTR – The NFT Club, a global digital property owners' community. The club aims to build more than 10,000 digital community centers across international locations and offer members a wide range of digital assets including digital art, digital real estate, digital fashion, and digital technology.
More information can be found at https://smartr.club/new-york
The launch of SMARTR represents a significant step in the growth of the digital NFT economy. An NFT is a "Non-Fungible Token", a tradable digital asset created on a blockchain. The NFT Club gives members democratized access to wealth creation within the emerging NFT economy and the opportunity to leverage tokenomics—crypto-based economics—to build a sustainable revenue stream through a self-owned and operated micro-business.
SMARTR has announced upcoming NFT "drops"–releases of NFT collections, available for purchase via credit card through the club website or on OpenSea for auction sales. The NFT Club leverages the growing demand for desirable digital assets that are accessible to all. The SMARTR NFT store aims to be the best place to buy digital NFT art for sale. Visit https://smartr.club for details.
The SMARTR NFT business opportunity community has announced the upcoming drops on the 17th of May, 2021 at 5 PM. The launch will include NFTs for low-to-middle income groups and for corporates, celebrities, VC funds and high-net-worth individuals. The NFT Club aims to democratize the digital economy by making revenue-generating assets and economic tools available to all. The drop is expected to feature digital art by SMARTR Founder @Vizionari and digital fashion NFTs.
A key feature of The NFT Club launch is "SMARTR Cities" and interactive digital real estate (iDRE), a powerful new digital economic development engine designed to empower people from around the world. SMARTR has also teased the drop of what they term "the world's largest Subscription Box", "the world's first Tech Startup and Drone NFT" and the unveiling of the New York club's digital community center.
SMARTR digital communities aim to become the hub network of the global NFT art market and their store is expected to feature some of the most lucrative NFT art assets for sale.
SMARTR is the vision of entrepreneur and digital artist Robin P. Belle, known by his internet handle, @Vizionari. A technology entrepreneur, he has worked in graphic design, digital photography, web development, digital marketing, publishing, and software. He is the creator of the unique high-performance digital art assets that drive SMARTR and The NFT Club.
For more information about the upcoming launch, visit https://smartr.club/new-york
Release ID: 89011641