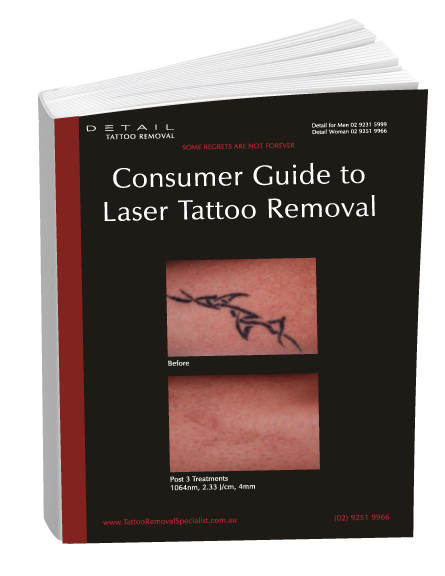 - March 15, 2016 /PressCable/ —
Detail Tattoo Removal Specialist has made available a free comprehensive report covering everything a person needs to know about laser tattoo removal, aptly titled: "Consumer's Guide to Laser Tattoo Removal".
The report has two key aims, written mostly to be relevant to Sydney residents with unwanted tattoos – although it will also prove very useful to anyone in Australia considering their options for laser tattoo removal.
The report's primary aim is to provide inked Sydney residents with all the key information they need to know about the laser tattoo removal process. Andrew Chim, CEO of Detail Tattoo Removal Specialist, explains that this free report will give valuable information to the reader and it will ultimately benefit them by helping them to feel more confident and informed before they commit to the laser tattoo removal process.
Andrew Chim stated: "There's a lot of misinformation online about laser tattoo removal. There's also, unfortunately, some disreputable companies performing this treatment which can lead to bad press for the whole industry. So we wanted to help people make an informed decision and also to dispel some of the myths we're seeing online."
Detail Tattoo Removal Specialist is in a unique position to produce this report and distribute it to all interested parties, as it has gained unique insight into the healthy & beauty market since it first opened its doors.
This comes in no small part from being dedicated to establishing itself as a leading provider of laser tattoo removal in Sydney. They are the only Sydney laser clinic who have invested in the latest laser tattoo removal devices – PicoWay and AlexTriVantage Q-Switched Laser System by Syneron-Candela. These machines are designed specifically to remove all black and coloured tattoos faster and more effectively than competing machines.
The free report has been well received by customers and the public. Andrew Chim advised: "As far as we know, we're the only Australian laser tattoo removal company who have produced a report like this. We're very proud of it and have already received some encouraging feedback from those who have read it and used it."
Interested parties can find the report ready to download, for free, at http://www.tattooremovalspecialist.com.au/guide
More information on Detail Tattoo Removal Specialist can be found at http://www.tattooremovalspecialist.com.au/
Release ID: 107114