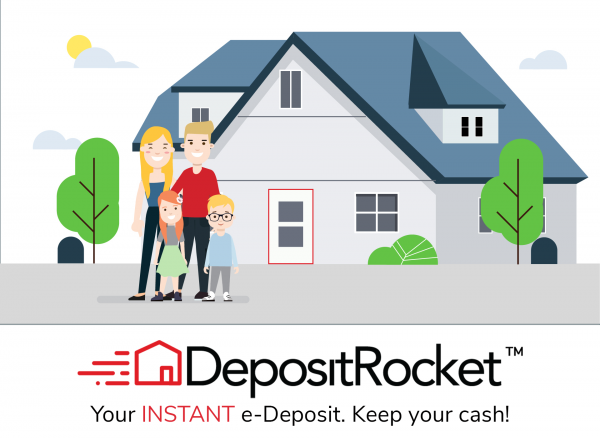 - December 17, 2021 /PressCable/ —
Deposit Rocket, a simplified and secure digital alternative to the conventional residential home cash deposit, has joined Souqh, Canada's real estate, and home services marketplace as a preferred partner for home deposits. Both Deposit Rocket and Souqh share the vision to simplify the homeownership journey by bringing residential services to Canadian home buyers and sellers online.
"There are so many time-consuming and manual processes with real estate. Really, that needs to change; especially with everything Covid has taught us" says Sharjil Salim, Souqh's Co-Founder. "Despite all the innovation within the real estate space, there has been limited focus on introducing digitization for the home journey. That's where we saw synergies between our visions." Deposit Rocket and Souqh are transforming the Canadian real estate experience by digitizing the entire home journey. "With Souqh," Salim continues, "you can find your realtor and book all your showings online. You can upload, store and share all the e-sign documents required by your realtor, lawyer, and mortgage professional. You can hire and pay landscapers, plumbers, electricians, and contractors – all in one secure digital platform. Souqh will keep all your receipts and warranties all in one place too, allowing homeowners to generate a home history report for all the services completed in their home, and best of all – it's completely free to use for home buyers and owners."
Don Miller, Deposit Rocket's CEO explains "adding technology and innovation to the real estate industry is exciting! We like what Souqh is doing and see the marketplace as an opportunity to grow together. Having experienced the time-consuming exercise of obtaining a certified deposit cheque for the buyer and realtors on both sides of the transaction, our goal was to introduce a secure e-deposit to the Canadian market – a convenient cash equivalent. We continue to see significant growth in adoption because Deposit Rocket is instant, convenient, affordable, and is as secure for the seller as receiving a certified cheque; only without all the hassle. This translates to a better buying experience for all involved."
"We saw synergies by working together," says Salim. "We are both going after the same target market, but we are not competing. In fact, we are providing complementary services, so we can mutually connect and educate home buyers and service providers in simplifying the challenge pertaining to home deposits"
Miller agrees. "As a featured Souqh marketplace partner, realtors and mortgage brokers will now learn how Deposit Rocket removes the friction of freeing up deposit funds and other time-consuming exercises. A Deposit Rocket Guarantee is unlike single-use certified cheques or Bank Drafts. Since everything you do with any service provider is stored on the Souqh platform, the buyer can make as many offers as needed with the same e-Deposit until they are the successful buyer. So, if their offer is unsuccessful, they can just attach a Deposit Rocket Guarantee to the next offer, right from the Souqh platform. It's currently focused in the Greater Toronto Area and it's exciting to be a part of. People are learning more about our services, and our name and technology are getting out there to some of Canada's top real estate influencers. We look forward to digitizing the entire home journey and are excited to be onboard for Souqh upcoming launch".
About Deposit Rocket
Deposit Rocket simplifies the home buying process by allowing buyers to use home equity or other assets to replace the cash deposit or cashier's cheque – saving time and money. Our easy-to-use online portal can secure your next home deposit in minutes. To learn more about e-deposits, visit https://helpdesk.depositrocket.ca/support/home. For Deposit Rocket media inquiries, please Nathan Neyedly (media@depositrocket.ca) or 416-484-4545. Read this article on our website by clicking here.
About Souqh
Souqh is Canada's real estate and home services marketplace, bringing together homeowners and trusted service providers to simplify the home buying and ownership journey. Souqh provides an end-to-end solution, including eSignatures, streamlined document management, easy communication, eCommerce, marketing, and many other features – all in one secure, digital platform. To learn more and join Souqh for free, please visit https://souqh.ca/
Release ID: 89057034