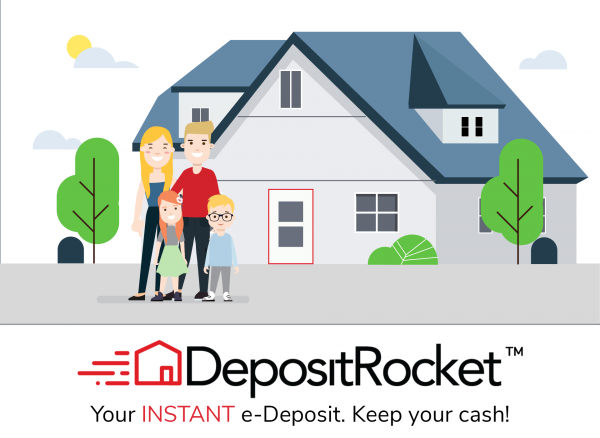 - August 12, 2021 /PressCable/ —
Six months after Deposit RocketTM launched its e-deposit pilot project, the InsurTech from Toronto, Ontario, Canada obsessed with making buying a home quicker and easier continues to digitize cash deposits and certified cheques now sees triple-digit growth in adoption and sales.
Deposit Rocket was soft-launched in Canada in January 2021 by seasoned insurance and surety specialists with the direct product and international experience. It is the only quick and easy electronic bond alternative to the cash deposit in the Canadian market, and Deposit Rocket Guarantees are now used by more Canadian realtors and homebuyers than ever before. An e-deposit bond is a fully accepted and established method of buying and selling property for Canadian homebuyers without liquidating home equity, investments, unsecured lines of credit, bridge financing, or overdrafts.
Don Miller, Deposit Rocket's CEO explains "having experienced the time-consuming exercise of obtaining a certified deposit cheque for the buyer and realtors on both sides of the transaction, our goal was to simply take the friction out of freeing up deposit funds. Our secure alternative is instant, convenient, and affordable which translates to a better buying experience for all involved. We've seen consistent month-over-month growth in the past six months, and we are now ready to officially blast into orbit across Canada."
Deposit Rocket offers a streamlined 5-minute online application via their secure portal that makes it easy to declare the equity an applicant has in their current home or the market value of their investments. Approval processing times are often instant but may vary to 1-2 business days depending on the application. Upon approval and payment, the Deposit Rocket guarantee is emailed to the Buyer and their licensed Realtor immediately. The Deposit Rocket guarantee is backed by an 'A-rated' (Excellent) insurer, by A.M Best making it as security for the Seller as receiving a certified cheque only without the hassles to obtain. Antree Demakos, J.D., CEO of Legal-Line.ca says "We are excited to introduce our four million annual users to a way to make a fast, guaranteed offer, without having to visit the bank!"
Deposit Rocket guarantees are currently available for up to 10% of the purchase price, or $100,000 CDN. Unlike a single-use certified cheque, a buyer can make as many offers with their Deposit Rocket as needed until they are the successful buyer, at no additional cost, for up to 9 months. Deposit Rocket also offers real-time amount increases and easy extension options if more time is needed to house hunt or until closing. An addendum to the Agreement of Purchase & Sale is also autocompleted and provided with every Deposit Rocket purchase, meaning the e-deposit is used instead of the cash deposit for the offer.
Once the offer is accepted, the Seller's Realtor holds the Deposit Rocket as the irrevocable, cashable, callable deposit commitment until closing and the Buyer simply pays the full purchase price including the deposit amount at closing.
George Tremis, Founder and Team Leader of the GT1 Realty Group says "recently we had clients who successfully purchased a home in Lorne Park. However, they were mistaken about their ability to produce $30,000 in cash for the deposit. Fortunately, Deposit Rocket rescued the deal within 15 minutes, via their deposit solution. Our clients were very happy with the solution and very impressed with how simple and cost-effective it was."
Glenn Yamada a Realtor from Vancouver explains a situation his client was in. "My clients had sold their home to a developer and were waiting for the non-refundable deposit which was in process but would not be ready for 10 working days. In the meantime, we found a home they wanted to put an offer on the weekend with offers being looked at on the following Tuesday. However, all their cash was tied up in their TFSA account. They were ready to cash out their TSFA on Monday but their financial advisor told them they wouldn't have access to the money until Thursday or Friday. Bank financing would also have taken as long to process. I spoke to the listing Realtor who suggested Deposit Rocket. At 10 am Monday I sent an email to Deposit Rocket and received a phone call within half an hour. They sent the application form immediately. By 1 pm we had approval and a letter guaranteeing the deposit. This would have been approved sooner except one of the spouses was unable to get to her computer until 12:30. The cost for a 1-month loan for $65,000 was $500. This of course increases the longer the loan term is. Unfortunately, we lost out on the offer. However, Rocket Deposit allows you to re-apply as many times as needed (no charge) until the approved buyer finds another home."
Deposit Rocket is accepted by all agents and real estate brokerages because of their Duty of Care to present all valid offers to the seller. Don Miller further explains, "the neat thing for the selling agent is if they're receiving offers on a home and they like one of them, but the deposit isn't quite high enough, or it's not certified, they can ask the buyer to upgrade it on the spot."
Deposit Rocket's flexibility is a driving factor for its early adoption amongst realtors. As a result, the company has seen an impressive triple-digit month-over-month increase since launch, and Deposit Rocket Guarantees have resulted in sales from all the top 5 real estate flagships, facilitated by mortgage brokers from the country's largest networks.
Now available to Canadians across all provinces except Quebec, Canadian homebuyers can now apply for a trusted and stress-free alternative to cash deposits and certified cheques.
For media inquiries, contact: Nathan Neyedly media@depositrocket.ca / 416-484-4545 – immediate response provided; depositrocket.ca
Release ID: 89038975