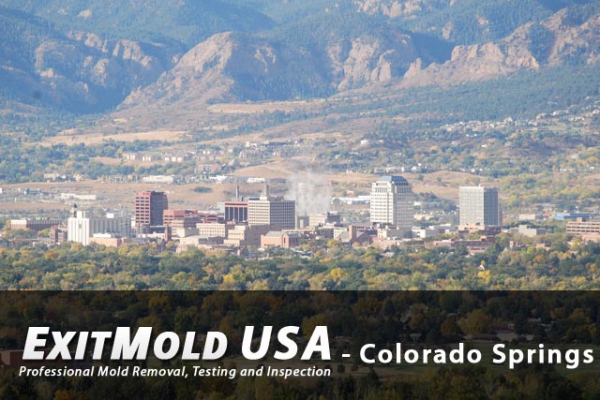 - March 3, 2017 /PressCable/ —
ExitMoldUSA, a Denver, Colorado-based mold remediation specialist has announced that it plans to extend its service coverage area by establishing a presence in Colorado Springs in the near future.
A spokesman for the company, owner John Brack said earlier today, "We have only been running as a business for a little over 2 years, yet in that time, we've seen a high demand for not only mold testing and inspection services, but also the follow up mold remediation work that is usually required. We have the central Denver area pretty well covered, and with our recent opening of the Fort Collins office, have the northern part of Colorado covered as well. However, we have identified a gap in the market for the southern areas of Colorado, including the major cities of Colorado Springs, Pueblo and Castle Rock".
Safe removal of mold infestations, particularly toxic forms of black mold, is extremely important as there are numerous cases of people becoming extremely ill due to the effects of mold spore inhalation. As John Brack stressed, "The internet is full of unfortunate stories of people who have been suffering debilitating symptoms for no known reason, sometimes for years. When they finally discover that all their health issues have been as a result of mold infestation, it comes as a complete shock. We've come across so many instances where a mold infestation has been completely invisible and was not until our experts were called in that the outbreak was discovered and identified. It's always a real buzz to see the relief on our customer's faces and the complete change in their health once the mold has been removed safely and cleanly from their home or business".
Once the office in Colorado Springs has been established, ExitMoldUSA will be able to provide mold removal, testing and inspection services for customers across the state of Colorado. The company has plans in the near future to expand their operations into the neighboring states of New Mexico and Utah, however remain cautious about expanding too quickly. John Brack commented in closing, "We don't want to move too fast, too quickly. We want to ensure our existing customer base is receiving the best quality mold testing, inspection and removal services possible. We won't expand into other areas until we see a definite demand in the area".
Customers interested in learning more can visit ExitMoldUSA Colorado Springs for information about their mold removal, testing and inspection services.
Release ID: 175032