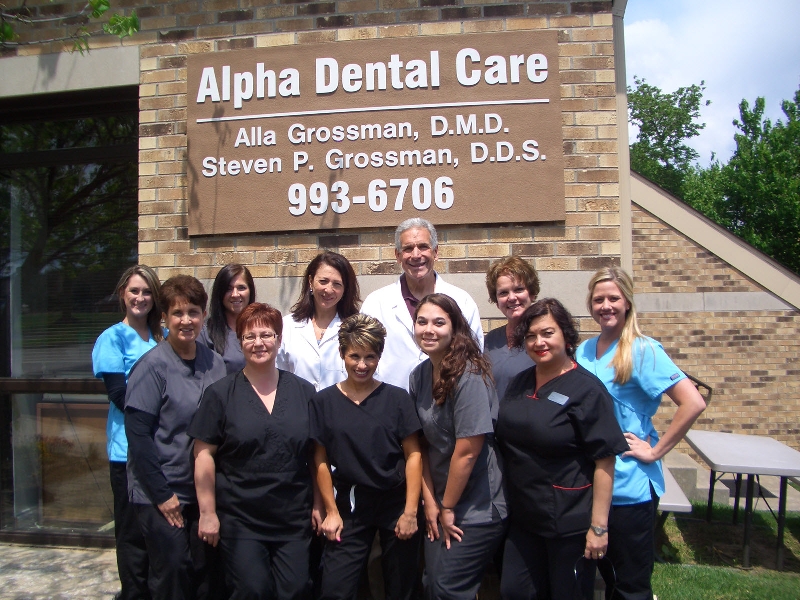 - June 26, 2015 /PressCable/ —
Alpha Dental Care in St. Louis, Missouri, has released, after years of patient case review, information regarding removable full dentures that are supported by implants as a patient-preferred alternative to unsupported full or partial dentures.
Information that Alpha Dental Care provided reveals that full dentures supported by two or four implants that are still removable allow the support of the implants to make them retentive, comfortable and pleasing to the patient from both cosmetic and functional aspects. Case studies also showed that a vast majority of patients are quite comfortable with the alternative, while also saving money: up to 65% less than the cost of non-removable prosthetic denture work supported by implants (including crowns, bridges and non-removable dentures).
Among the patients reviewed, a young mother in her 30s with two small children at home came to Alpha Dental Care. She had received extensive dental treatment while in Eastern Europe, but that work had failed and left her without upper teeth and missing several lower teeth. The patient was uncomfortable with the idea of a simple full upper and lower denture. She did not want her upper and lower dentures moving in her mouth and was concerned about the plate on the upper denture covering the roof of her mouth.
The doctors at Alpha Dental Care came up with an individualized solution for the patient. They placed implants on her upper and lower arches, and had a custom upper denture made that locked into the implants—preventing movement and without the need for a plate that covered the roof of her mouth. For the lower denture, a custom three-unit bridge was made and cemented onto the implants to hold it securely in place. The patient was wholly satisfied with the results, in terms of appearance, comfort and cost, and offered high praise because it was secure and yet removable.
"While practicing dentistry for 30 years, I've seen many patients who have lost all their teeth and are increasingly looking for a more comfortable, cosmetically pleasing and functional solution than basic full dentures," says Dr. Steven Grossman, of Alpha Dental Care. "However, not all of my patients can afford a full mouth reconstruction using crowns and non-removable bridges supported by implants. So for the last 10 years, we've studied other options and have completed a large number of cases where full dentures were supported by only two or four implants. Even though the denture is still removable, the support from fewer implants makes them retentive, comfortable and pleasing to the patient, but at a fraction of the cost of a crown/bridge full mouth reconstruction."
Adds Dr. Alla Grossman, "Our patient satisfaction rate from these removable dentures with implants is very high. In addition to the cost savings, patients like having the option of removing the dentures when they like, without worrying about them falling out during dinner or a conversation. Removable dentures supported by implants are also a great alternative for patients who don't have bone support or are dealing with medical conditions that don't allow full mouth construction with implant-supported crowns and bridges."
About Alpha Dental Care
Since its founding in 1991, St. Louis-based Alpha Dental Care has provided low-stress, friendly, family dentistry throughout the region. As a general dental practice, Alpha Dental Care offers a wide range of dental services and is known for unsurpassed high-quality dental work. The practice's patients come from around the block and across the country, representing a variety of nationalities and backgrounds. From receptionists at the front desk to the hygienist and assistants in the back, the firm's priority is to provide a comfortable and positive experience for all patients.
Release ID: 85273