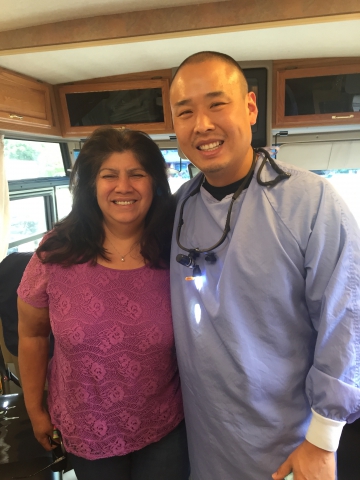 - November 29, 2017 /PressCable/ —
Dr. Benjamin Wang, a passionate dentist with a people-focused approach to dentistry, recently published a new blog post explaining the safety of digital dental X-rays. The post addresses patients' concerns about the effects of radiation on their health.
More details about digital dentistry and other dental services Dr. Ben offers can be accessed at https://centerportdental.com/
Dr. Ben explains that the digital X-ray system used at Centerport Dental minimizes radiation exposure to patients and staff. He compares digital X-ray systems with the conventional ones, showing how precise and environmentally friendly digital X-rays are.
In the blog post, Dr. Ben also compares digital X-rays to other sources of radiation used in the medical field. He shows how radiation exposure from the digital kind is the least among other types of medical radiations. In fact, it is 20 times less than the radiation exposure from a chest X-ray, which has the largest amount of radiation. He also explains that digital X-rays are safe for the environment since they do not produce any hazardous waste for disposal.
"At Centerport Dental, we follow the ALARA guideline provided by the American Dental Association. ALARA stands for 'as low as reasonably achievable' dosage," says Dr. Ben, who has been a practicing dentist for 14 years.
Dr. Ben graduated with a Doctor of Dental Medicine Degree from Temple School of Dentistry in 2003 and has gone on to pursue advanced training, completing hundreds of hours in cosmetic, restorative and implant dentistry in Kois Center, GIDE academy and Scottsdale Center for Dentistry.
Anais M., a patient, had this to say: "Dr. Wang and his staff are very attentive, professional, and friendly. They went above and beyond to make me feel at ease, and to explain treatment options and cost estimates."
A significant concern for many patients is the risk of getting more than one X-ray taken during a check-up. Typically, an oral exam will require about 4 X-rays. However, Dr. Ben showed that the radiation exposure from 4 dental X-rays is still 5 times less exposure than that of a chest X-ray.
Digital Dentistry, including the use of digital X-rays, has revolutionized the dental care profession. Today, computer aided appliances perform procedures that had to be done manually or through the use of mechanical devices.
Dr. Ben is committed to offering dental treatments using the latest technology at his Downtown Portland Dental facility. He uses the latest in 3-D digital technology to make treatment more efficient and effective for his patients.
Dr. Ben is also running a charity campaign for the local food bank at the Portland Rescue Mission. He is offering FREE dental services for patients who bring in a small donation to Centerport Dental: http://smarturl.it/bw-food-drive
Release ID: 266524