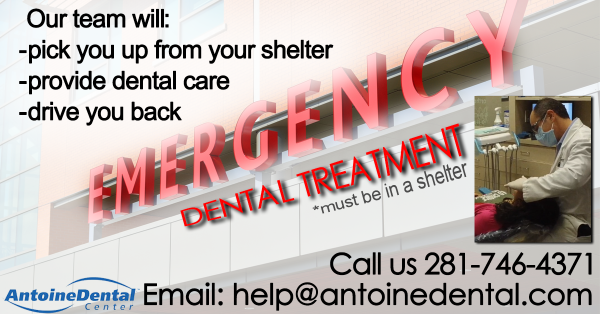 - September 7, 2017 /PressCable/ —
Responding to the devastation experienced in Houston, TX following Hurricane Harvey, Antoine Dental Center is now offering free emergency dental treatment to victims of the disaster. The dental center is targeting people in shelters during this period of uncertainty.
This is meant to address the problem of exposure to cold weather, which can have harmful effects on the teeth. The Houston dentists explained that although the teeth have a hard outer cover, they are affected by extreme temperatures, both hot and cold.
They went on to elaborate on the fact that teeth are porous with nerve endings connected to them, which is why pain is experienced when the pain receptors are triggered.
As a result of Hurricane Harvey, many people have been forced out of their homes to seek higher ground because Houston is a flat area. This movement has exposed many of them to the cold air caused by the rain and floods.
Behzad Nazari, a reputable dentist in Houston and founder of the practice, explained how the cold weather affects the teeth. "Once they inhale cold air and it gets into contact with sensitive parts of the teeth, pain is experienced to varying degrees depending on the extent of the damage to the tooth," he said.
"Additionally, the sudden contraction caused by the cold air as it enters the mouth, followed by expansion when the mouth is closed, can actually cause the teeth to crack. These cracks, although unnoticeable, can cause great harm in the future," he added.
Like many others, Antoine Dental Center is doing its part to help the residents of Houston by responding to the need at hand. Thousands of Houston residents have been adversely affected by the hurricane and resultant floods, and even some shelters have had to be evacuated due to flooding.
Although many areas are still flooded, meteorologists do not expect any rain in the region for the next few days, a welcome relief for residents.
"We will be picking people up from the shelters and giving them free dental work, and then take them back to the shelter once we are confident that they are pain-free," said Dr. Nazari.
The treatment is available to all Hurricane Harvey victims currently in shelters and in need of emergency dental treatment. All individuals that fit this description are encouraged to call Antoine Dental Center.
For more information about Antoine Dental Center, visit http://www.antoinedentalcenter.com/
For emergency help contact:
Email: help@antoinedental.com
Call: 281-746-4371
Release ID: 236854