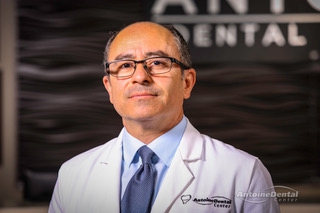 - November 29, 2017 /PressCable/ —
Antoine Dental Center recently announced their advanced self-ligating braces for patients on their Facebook page. These braces are different from conventional types because they do not need elastic ties to enhance their effectiveness. They also have many other benefits, which patients are encouraged to take advantage of.
To learn more about Antoine Dental Center and the dental services offered there, please visit http://www.antoinedental.com/
Conventional braces were made of high quality stainless steel and consisted of metal brackets and arch wires. These two components, when adjusted over a period of time, would produce the tension that was necessary to move teeth to their correct position. They also needed elastic ties to tighten the arch wires as required.
Dr. Nazari of Antoine Dental Center offers patients an alternative for aligning their teeth that does not involve the use of elastic ties, which many find off-putting. In the post, he explained that although self-ligating braces look similar to conventional braces, their brackets have a special clip that allows the arch wire to move smoothly, thus moving the teeth into place progressively.
The Houston dentist explained the benefits of the self-ligating braces: "There are many benefits," he said.
"You will need fewer appointments to make adjustments, and the improved efficiency of your braces will result in a shorter treatment time. Lower-profile brackets often equal greater oral comfort for many patients, too," he explained, describing how they are much better than the conventional ones.
Dr. Nazari's post goes further to explain how self-ligating braces also offer patients the opportunity to pick the type that they want. For instance, patients can go for the ceramic brackets option. Ceramic braces are less noticeable than their metallic counterparts, although they are more fragile. Even so, patients are free to choose which type they want based on their preferences and what works best for them.
The founder of Antoine Dental Center, Dr. Nazari is an accomplished dentist with 18 years of experience serving the residents of Houston. He studied at the University of Texas at Houston Dental Branch where he graduated with honors and a Doctor of Dental Surgery in 1998. His pursuit of excellence led him to complete over 1,800 hours in continuing education with over 500 hours in orthodontics, occlusion and TMJ correction alone.
Dr. Nazari is also currently running a Food Drive campaign to help the local community. To learn more about the campaign and how to get a FREE dental cleaning, visit http://smarturl.it/bn-food-drive
Release ID: 266526