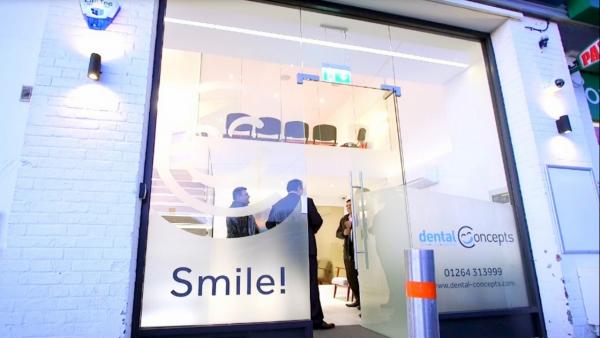 - June 8, 2020 /PressCable/ —
This dental surgery in Andover offers private dentistry exclusively. Patients seeking private dentistry can find both general as well as cosmetic dental treatments (such as dental implants, teeth straightening with Invisalign, ceramic dental veneers and complete smile makeovers). All people in the greater Andover area looking to have their teeth fixed can get precisely the dental treatment they are looking for at Dental Concepts.
Detailed information about the dental clinic in Andover can be found at: http://dental-concepts.com.
The family-run Dental Concepts strives to provide top quality and most caring dental services possible to the residents in greater Andover. The practice has a high-calibre team of dental clinicians who work together in harmony to deliver the best results for their patients. Their support team is highly trained, and they work tirelessly to make each patient's journey as comfortable as possible.
For many patients, convenience is a big concern, and for them Dental Concepts is one of the most conveniently located dental practice in the area, thanks to the fact that all their dental facilities are housed at the same clinic location. There is even a spacious car park located next to the practice. All registered patients of the practice are eligible to receive NHS (albeit at their Whitchurch clinic) as well as private dental treatment along with patient-friendly opening timings.
The dental practice in Andover provides a breadth of dental procedures, which include general dentistry. General dentistry encompasses the overall maintenance of a patient's oral hygiene and the general health of their teeth. The clinic spokesperson stated: "Dental Concepts has five highly competent general dentists who cater to the dental needs of our clients regardless of age. We are going to help you customise your dental hygiene plan according to your needs and desires. Your general dentist will diagnose your dental status, facilitate treatments and closely monitor your dental health status to prevent further damage, pains and other disease."
The clinic also offers a sought-after assortment of cosmetic procedures with teeth whitening being among the most common. Over time, teeth get discoloured by food, drink and smoking, leading to the loss of their natural white brilliance. Teeth whitening is a simple, non-invasive solution to the problem of stained teeth. Dental Concepts helps dozens of patients restore the sparkle of their smiles every year through teeth whitening, and the results are now and again amazing to witness.
"Every year, over 100,000 people receive teeth whitening treatment in the UK," states Dental Concepts. "There are a number of ways to whiten teeth. You've probably seen tons of over-the-counter whitening products at your local medical store, from whitening toothpastes to rinses to whitening strips and other types of DIY at-home treatments. Teeth whitening carried out in beauty salons by untrained staff or staff without dental qualifications puts your oral health at risk and is also illegal in United Kingdom. The single most effective and safe way to whiten teeth is with a professional tooth whitening session in your dentist's practice.
Dental Concepts makes special promotional offers from time to time. Interested patients are encouraged to call the clinic to enquire if any special offers are forthcoming. In the past, a giveaway contest was organised for example. For more information on this contest visit: http://marketersmedia.com/andover-private-dentist-teeth-whitening-skin-consult-giveaway-contest-launched/521779
Many patients of the dental clinic have left great reviews about Dental Concepts online. One patient, Carolyn, says, "Wonderful experience. I had to have a tooth extraction. The receptionist was wonderfully welcoming and made you feel at home. In fact, she made everybody feel at home. The surgeon and the surgeon assistant did their job wonderfully. I'm so impressed, I couldn't ask for any better. I'm really thankful for being able to attend that dental practice with such lovely people, thank you."
"What a wonderful place," says another review from a patient named Ferlon. "The receptionist was incredibly funny, which calmed my nerves down, and the dental surgeon and her assistant were very friendly. They explained everything that was going to happen, which again helped to calm my nerves down. The root extraction was performed at a lovely leisurely pace, which again was very calming. Within minutes of my gum going numb, I was told that it was all over! I felt nothing! I felt no pain and definitely didn't experience any tugging. If only my local dentist practice was like this. A big thank you to the three amazing ladies that made my visit an enjoyable one."
For finding the clinic location on a map and for getting driving directions to Dental Concepts in Andover, follow this link: https://www.google.com/maps/d/viewer?mid=1kbW2Ap4yxIOrRVMfzk1MKXqj8Rb6DSML
The staff at Dental Concepts is ready to offer their services, and Andover residents in need of a reliable and caring dentist are encouraged to make an appointment at their earliest convenience.
Release ID: 88961434