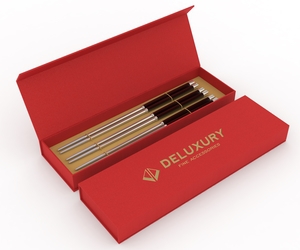 - August 25, 2016 /PressCable/ —
In a refreshing change of pace, online retailer and eCommerce Store "Deluxury Fine Accessories", will be celebrating the launch of its newest dining & kitchen utensil set, the Deluxury Stainless Steel Chopstick Set by releasing the product to the general public through the world's biggest online retailer – Amazon.com. It is reported the event will take place in late August 2016.
In a space where many competitors engage in small, often unnoticed launches which fail to cause much of a stir, Deluxury Fine Accessories has opted to be a little more aggressive with a U.S. wide launch with it's newest addition to their dining and kitchen line.
Janet Dixon, Marketing Director at Deluxury Fine Accessories, says: "Deluxury wanted it to be a U.S. wide launch with the new dining utensil set because the company believes this product is something that everyone will want and it deserves a large scale release.
The company expects a very good reception and hopes it will please all of Deluxury's current customers as well as create many new ones. Deluxury believes the launch should go great unless the whole internet crashes down on launch day!
Deluxury Fine Accessories has always thrived on the idea of standing out and making a commotion. It's all part of the fun and it's going to bring wide-ranging visibility to an excellent product, which the company thinks is a better approach than those businesses who choose to do things in an 'off-the-radar' style. This launch celebration is just one of the many ways Deluxury Fine Accessories achieves this goal.
When asked about the Stainless Steel Chopstick Set, Janet Dixon said: "Deluxury Fine Accessories thinks it's going to be a real hit because this is something that can make those special occasions even more special".
The premium chopstick set is set to launch in late August 2016. To find out more, visit Amazon's product detail listing at https://www.amazon.com/dp/B01H43RCBU.
Or, for further information about Deluxury Fine Accessories and its newest product releases, see their site at www.Deluxury.global.
Release ID: 129468