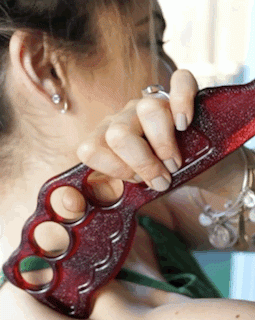 - November 12, 2020 /PressCable/ —
An updated version of the FasciaEdge massagers is now available. The deep tissue massage tools are designed to get rid of headaches, back pain, arthritis pain, plantar fasciitis, tendinitis, among other complications.
Details can be found at https://www.fasciaedge.com/products/feset
Called the FasciaEdge 0.1, the recently updated product comes in a set of two red PC resin tools. It was invented by Manual Therapy Instructor and Crossfit L1 Trainer Roi Rollins and is considered innovative, ergonomic, comfortable, and easy to use.
The lightweight, soft tissue mobilization tool can be used for deep tissue massage, trigger points release, rehabilitation, lymphatic drainage, scar tissue reduction, and cellulite control. Additionally, the FasciaEdge 0.1 works to maximize the effects of manual soft tissue therapies, correct fascial alignment, speed up recovery after physical activity, and reduce surgical scarring.
Understanding that the human body is made from dense connective soft tissue that requires constant care and attention, Rollins coined the root name of his product from that of the areas in the body which it targets. Fascia is the soft connective tissue (or sheath) that wraps around muscles, tendons, ligaments, bones, blood vessels, organs, and nerves.
Rollins came up with the product whilst struggling with immobility and pain. The Manual Therapy Instructor recalled being in a life-altering, massive car accident that left him crippled.
He explained that his hand was severely injured, and to get better, he started his journey into healing and self-rehabilitation, and soon became fascinated with the human body's anatomy and physiology. It was through this that Rollins learned myofascial release techniques.
After trying different instrument-assisted soft tissue mobilization (IASTM) tools, most of which were pricey and often made him both uncomfortable and devastated, Rollins set out creating his myofascial release device. As such, the FasciaEdge was born after two years of research.
Ideal for at-home recovery, the FasciaEdge can be used by oneself during self-care or self-massage routines or by a professional masseuse for client rehabilitation.
The product has received many high praises from satisfied users. One such reviewer wrote, "As Registered Massage Therapist I use FasciaEdge to work on my clients and myself after work or a workout. I love the ergonomic design, it's so practical and versatile. Very very happy with my purchase!"
To find out more about the Rollins' ergonomic instant relief FasciaEdge massage tools, interested parties can click on the link above.
Release ID: 88985377