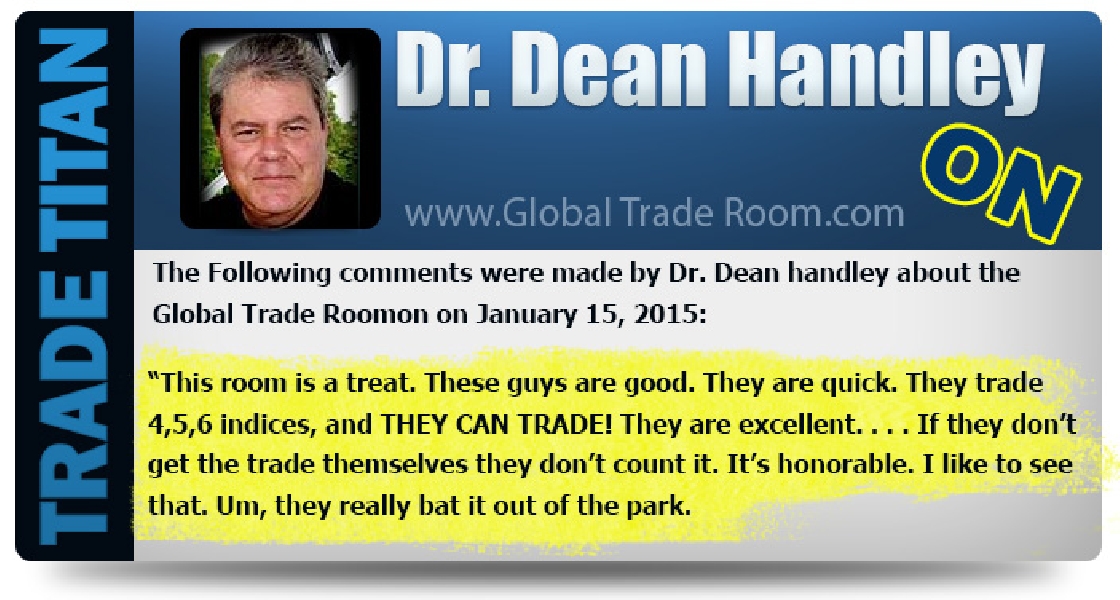 - March 24, 2015 /PressCable/ —
Global Trade Room was named winner of the Newest Member of The Trade Titans beating out 731 other competitors and joining the ranks of the Top 12 Best Trade Rooms in the world. Dr. Dean Handley announced the big news in his latest publication. He analyzed Global Trade Room online, Live in their trade room over a 6 week period.. Details about the accomplishment can be found on the company website at www.GlobalTradeRoom.com
Potential award recipients were all audited by Dr. Dean Handley. In order to be in contention for a Member of The Trade Titans, you were judged on 3 areas: 1. Post a detailed truthful and forthright track record. 2. Net >$50K per year at 3 contacts per trade. and 3. Show or communicate their trades (entry, stop, target) so I (Dr. Dean Handley) can see, understand and replicate. Global Trade Room came through with flying colors on all 3 and even surpassing the norm. Simon Jousef, CEO / CTA of Global Trade Room was pleased about the company's performance, saying:
"Global Trade Room has worked hard since 2005, helping fellow traders reach their ultimate goal of Consistency and Profitability in the Trading arena. Being named as a Trade Titan is just an honor. We are very excited to see all our hard work pay off."
In the same week the news broke that Global Trade Room would among the elite as the next Trade Titan, Global also had the amazing fortune of being interviewed on TV in the UK.
With all their integrity, honesty, and caring for the student, it was only a matter of time before GTR rose to the cream of the crop. So congratulations to Global Trade Room for a well earned accomplishment in the Stock Market/Financial/Trading arena as one of the best trading rooms in the world.
Persons interested in learning more about Global Trade Room and the award can visit the website at GlobalTradeRoom.
Release ID: 77575