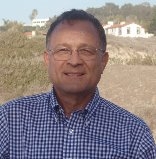 - July 16, 2015 /PressCable/ —
David Knapp has written a new book that helps readers understand what a person who is grieving a loss really wants and needs, but doesn't know how to express it. "I DIDN'T KNOW WHAT TO SAY: Being a Better Friend To Those Who Experience Loss" brings readers into his personal conversations he has had helping family and friends experiencing loss; conversations that cover a 40-year span. David wrote this book in an effort to help people know what to say to grievers in their difficult time of sorrow.
"This book can be used as a handbook. Stand-alone chapters focus on varying types of loss and provide insights related to the dynamics of comforting those grieving. For the bottom-lined individual, the list at the end of each chapter "What to Say / What NOT to Say" will be especially appreciated." Says Knapp.
Knapp knows what it is like to grieve the loss of loved ones after losing two wives to cancer. During those years he also raised four children and a blended family of eight teen-agers coupled with all the responsibilities of life. With a love for family, David has a desire to help others and share what he learned through his experiences.
The book shares specific conversations that reveal unintentional hurts, while others give the reader, the "opportunity to be embraced by the wisdom and affirmation of our humanity in and through the process of loss," as Dr. Bill Steinke, Hospice Chaplain noted.
Dr. Steve Vandegriff, Professor at Liberty University, writes, "David Knapp hits a nerve with his book, "I DIDN'T KNOW WHAT TO SAY: Being a Better Friend To Those Who Experience Loss". David takes a candid and vulnerable walk through all the dynamics of grief and loss. It's a book that every person who works with the public on a daily basis should have in his/her library. It's a book for the person who simply wants to be a better friend to those experiencing grief."
Science fiction author, DP Spillman, writes, "David Knapp has put together a valuable and much need manual on how to help friends and loved ones as they journey through the grieving process. Especially helpful is the section at the end of the book that details what one can do to comfort and help those who experience the loss of a loved one at the time of death, one week later; and at intervals from 3 weeks, 3 months, six months and up to a year after the time of loss. There are tips covering what to say and do at the holidays; and how to help when those missing anniversaries and birthdays come around. Especially useful is the short guide at the end on what not to say when someone is grieving and what can be said instead when words are appropriate.This book will be a welcome resource, not just for minister's and counselors, but in every family's bookshelf."
This is not a typical book on dealing with grief. Knapp's dominant objective for writing his compelling story is to help people who find themselves close to a grieving individual. He deeply desires to empower people to be better friends to the grieving.
The book is available for pre-order on Amazon.com as of today, July 15, 2015. Readers can reserve their digital copy and receive a preview of the introduction and the first two chapters; plus pick up two bonus features.
About David Knapp A two-time widower, the author raised four children, blended a family of eight teen-agers, and shouldered his responsibilities with respect and admiration by his family and colleagues. Today he's the proud grandfather of 27, resides in Mesa, Arizona, and is remarried to Crystal Wacker Knapp. Together they have plans for workbooks and other resources for grievers and caregivers. He is actively pursuing and is available for seminars and speaking engagements.
Release ID: 86857