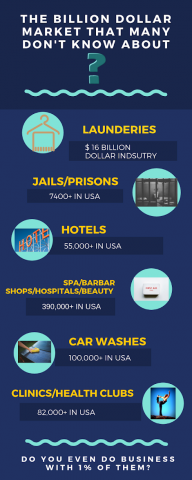 - December 21, 2018 /PressCable/ —
Up until now brand owners and other companies in the textile sector had to invest a lot of money in going to international trade shows and fairs to collect customer database. An investment that can be hard to motivate, especially for small distributors/wholesalers and start-ups who end up going to exclusive textile events such as the Las Vegas Laundry Service shows.
Now Data Dyve has created the Cotton Textile Data Analytics – an online website that allows you to purchase leads for thousands of customers at once. Data Dyve also claims to provide most of the emails granting you easy access to new American buyers.
Customer Data Base is a big deal in a Billion Dollar US Textile Market. Especially in a time where more and more new buyers from industries like Spa's, Beauty Salons, Fabrics Shops, Industrial Laundries, Hotels, Car Washes, Clinics, Health Clubs and Hospitals open up. Textile Suppliers are requesting updated Data they can purchase to increase business and sales.
– There is a great market opportunity for companies willing to expand quickly and inexpensively to meet the demands of the 21st century customer. With Data Dyve Textile you get access to a full list of advanced data along with a 1-on-1 consultation with a team member to allow you to sell your products as one of the leaders in your industry. Several Pakistani and Indian Cotton Manufacturing export companies have utilized the data provided by Data Dyve to expand their presence in USA as a top wholesale/distribution.
For more information can visit-
https://www.datadyvetextile.com/american-textile-company/
In short, the Textile Data is an easy one-two-three step guide to show companies how they can speak to new clients and expand the horizon of their business.
Other leading textile suppliers had great things to say about this company-
https://www.youtube.com/watch?v=qok5y5A4v3I
No registration is needed, there are no hidden fees and all Textile Data Dyve users will remain anonymous if they wish.
Data Dyve company Location is in the Heart of Atlanta, Ga and fully staffed in USA. Data Dyve is also showcased on over 400+ news outlets and named number 1 for Textile Data statistics Sites.
Release ID: 462911