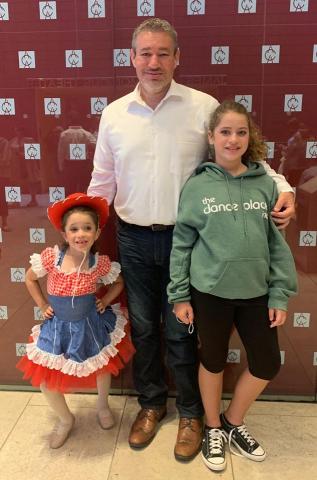 - July 20, 2020 /PressCable/ —
Just a few weeks ago in Carencro, Louisiana, you could watch Shawn David and his youngest daughter dancing on stage together at her recital in their "Daddy-Daughter" dance. While this is a special event for any father and daughter, it was extra special for the David family.
Almost 9 years ago, Shawn was in a car accident that caused multiple fractures in both legs and an excessive amount of blood loss. As a result, his left leg had to be amputated. Through the course of physical therapy to learn to walk on his prosthetic, he realized there was still a massive amount of debilitating pain in his right leg, particularly his knee.
Several doctors turned down the opportunity to do surgery due to the concern that if there were any complications, it could result in the need for amputation of his right leg. Then he was referred to Dr. Niels Linschoten in Baton Rouge. This was about an hour away from his home in Carencro, but he had exhausted all of his options in the Acadiana region.
At the first meeting with Dr. Linschoten in Baton Rouge, Dr. Linschoten assured Shawn that he could do a knee replacement surgery that would relieve him of his pain. He said, "I can do this." And he did. The knee replacement surgery was a great a success. Shawn said that he is grateful for both surgeries – the amputation with the prosthetic fitting and the knee replacement. He specifically stated, "Both got me walking. The knee replacement much better."
Since his knee replacement surgery, he walks on a regular basis, which he associates with his significant weight loss. He has also walked over 3 miles in a parade with his family, danced with his older daughter at a Father-Daughter dance, and even danced in his youngest daughter's recital on stage. He is able to live a full life without constant pain because of the doctors and physical therapists that helped him to heal from his injuries. Shawn and his wife Lauren said, "We are forever grateful for Dr. Linschoten."
If you have hip or knee pain, you can request a visit with Dr. Niels Linschoten on his website at www.linschotenortho.com. There are many treatment options for your pain, not just surgery, and Dr. Linschoten makes sure you are educated and confident about whatever treatment plan in best for you. If you are in need of a replacement or revision, particularly if you have a complex case that has been turned down by other orthopedic surgeons, Dr. Linschoten will be happy to review your case and help you on your road to healing.
Release ID: 88969241