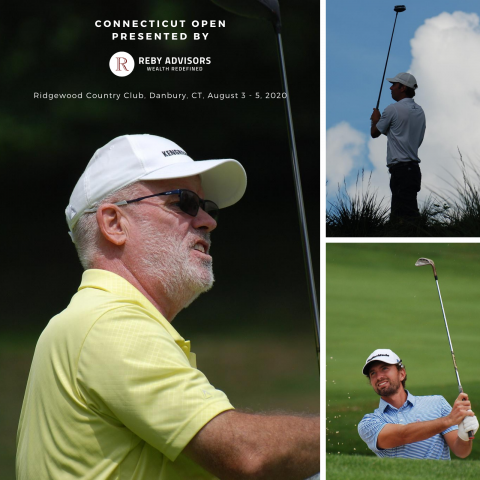 - July 25, 2020 /PressCable/ —
Danbury native Ken Green's golf career comes full circle when he returns to compete in the 86th Connecticut Open Presented by Reby Advisors from August 3 to 5.
At the Media Day press conference, Green shared details of his amazing journey: as a teenager, he discovered his passion for golf caddying at Ridgewood Country Club and would often sneak onto the course during off hours to practice. The rest is history. Green went on to win five PGA Tour events and two Connecticut Open Championships.
Fittingly, to win his third Connecticut Open, Green will have to once again "steal" the show at Ridgewood Country Club. A new generation of champions, including Adam Rainaud, winner of the 2016 Connecticut Open; and Kyle Gallo, four-time winner and Connecticut Golf Hall of Famer, also aim to repeat as champions.
An intriguing mix of amateurs and professionals, established golfers and up-and-coming stars, round out the field competing for a place in Connecticut golf history.
In addition to prestige and gentlemen's bragging rights, the total purse has been increased to $60,000, due to a new partnership between the Connecticut State Golf Association (CSGA) and financial planning firm Reby Advisors. The first-place winner will now earn $14,000.
"We're grateful and excited to have Reby Advisors as a partner," said CSGA Executive Director Mike Moraghan. "Reby Advisor's presence in the Danbury community and their support of the championship allows us to make a great event even better."
Weather permitting, the first golfer will tee off to start the 86th Connecticut Open at approximately 7 a.m. on Monday, August 3. Participants will play 36 holes over the first two days of competition. Only low 40 players on the scoreboard will play the final round of 18 on Wednesday, August 5.
To learn more about the Connecticut Open, visit the CSGA website: https://www.csgalinks.org/championships/connecticut-open
About Reby Advisors
Founded in 1985, Reby Advisors is a financial planning firm that advises more than 500 families nationwide and manages more than half a billion dollars in client wealth. Through the firm's signature financial planning tool, The Lifestyle Sustainability Scorecard, the Reby Advisors team measures how well a family has managed risks to their lifestyle, develops a financial plan to address those risks, and builds and investment strategy aligned with client goals. Visit Reby Advisors online at: https://www.rebyadvisors.com
Release ID: 88969992