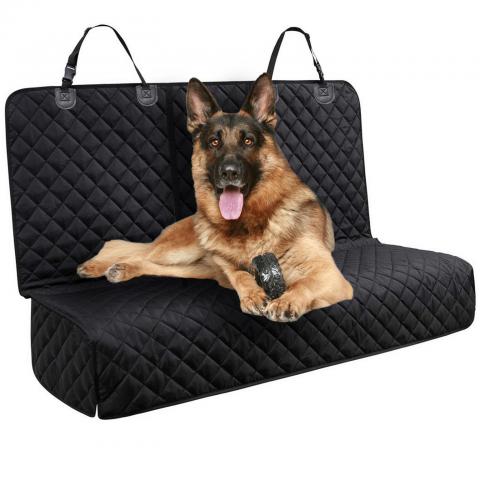 - August 20, 2019 /NewsNetwork/ —
DakPets, one of the most loved pet care brands around the world, has recently announced the launch of yet another useful product. The company's new Waterproof Dog Car Seat Cover promises to be an excellent accessory for pet owners that love travelling with their dogs. With a series of innovative features, this product not only keeps the dogs safe while travelling, but also protects the interior of the car.
Be it a quick run to the store or a cross-country trip, travelling with pets can be great fun. No matter how long or short the duration of the trip might be, it is extremely important to keep safety in mind for those traveling in the car, including the pets. This car seat cover is for sale in Amazon with an introductory 35% off with no coupon code required.
The American Automobile Association informs that in a survey conducted by them, it was found that over 80% of American dog owners drive with their pets in the car. At the time of conducting this survey, there were 43.3 million American households with pets. However, unfortunately, the survey revealed that only 16% of people traveling with their dogs use proper safety devices.
DakPets has designed their non-slip car seat covers for dogs with care to address all the problems people face while traveling with their dogs. The product is manufactured using high-quality, heavy duty, and waterproof material to ensure superior durability. Summarized below are some of the most important features of the product.
· The non-slip surface of the product prevents the dogs from slipping around the car seats whenever the brakes are applied. The product is also equipped with built-in nonslip backrest and seat anchors to make sure that the dogs don't slide around the seat cover.
· With two zippers for the armrest and Velcro openings for side and middle seat belts, the seat cover is compatible with the middle seat belt. Kids and passengers can hop back easily without difficulty because of its two seatbelt openings.
· DakPets dog car seat covers can be used to cover the back seats of almost all cars, trucks, and SUVs. Best to measure if you're unsure.
· Each pack comes with adjustable dog seat belt to keep the pet on the seat to protect it from getting injured during accidents or sudden braking.
· The fast-release clips are easy to install by snapping the buckle straps around the headrests of cars and trucks in the anchors of the seat.
· Easy to clean with a damp cloth or vacuum.
"At DakPets, we truly care about the safety and security of your pets. Our product design team has spent several months to create a design that will make your road-trips with pets safer and more enjoyable than ever before," said a senior spokesperson from DakPets. "Please visit our Amazon storefront to find out more about this must-have accessory."
To find out more about this product, please visit www.dakpets.com
About DakPets:
DakPets is a world-renowned pet care brand with an impressive range of pet care products. The company's name is synonymous with high quality, exceptional value pet care supplies. All their products are made and developed by experts that specialize in different breeds of dogs, cats, and even horse grooming tools as well as a general pet care range
Release ID: 88908288