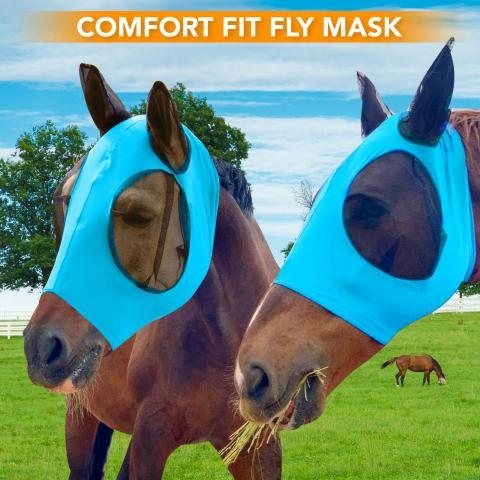 - November 5, 2019 /NewsNetwork/ —
UV Lycra Horse Fly Control Masks with Ears , a product from the acclaimed pet care brand DakPets, is now making steady progress in Amazon. Within its relatively short lifespan, the product has managed to please many buyers. In a recently published Amazon review, the reviewer mentions that these fly masks can help horses suffering from facial scratches and cuts. Interestingly, the impressive performance of the product has already made it an Amazon's Choice. Horse owners looking to protect their horses from insect bites and irritants can take home this product for only $12.99.
Flies are not only a nuisance but they also bite, which can lead to several potential health issues for horses. Also, there are many diseases carried by biting insects such as flies and mosquitoes. While not every single fly carries a life-threatening disease, they still present other problems. For example, bites from horseflies can be painful, while some species cause dangerous summer sores in wounds. Horses can develop an allergic skin condition from being bitten; fly bite allergies are the most common skin disease found in horses.
"Fly Masks are important for more reasons than keeping your horse comfortable. If you stop and look at where flies are drawn to on your horse's face, you will notice they congregate near the eyes and nose," said Rob Scrivens from DakPets. "Since our horses do not have hands to safely swat the flies away, they are left to rub them away which can potentially cause injury. Not to mention, this can also lead to eye infections. The fly mask acts as a protective barrier against flies that can transmit disease or for those horses that have fly bite allergies."
The horse fly masks from DakPets can be used for any horse with neck circumference up to 100 cm. These one-piece masks come without any hooks or loop fasteners, and provide a perfect fit rather easily. The product's lightweight and form-fitting design comfortably conforms to the face of the horse. In addition to protecting the eyes from flies and mosquitoes, it also saves horses from all types of air-borne irritants. With a soft coated nylon mesh, it also protects the forehead and eyes of horses from harmful UV rays.
Recommending the product, a highly impressed user mentioned, "Meet Houdini! This pony gets out of pastures, stalls, and yes, his fly masks. Normally this would be fine BUT this summer found him with some facial cuts and scratches that needed a fly mask to heal them. The recent one was due to scratching his face over our fence in some thick brush. While the scratches were superficial the flies were making it worse. Using this was amazing! The fly mask was in place until I removed it! Need to get these for the whole herd…and need in a mini horse size as well!"
To find out more about DakPets Horse Fly Mask, please visit https://www.amazon.com/dp/B07W4GZVMJ?ref=myi_title_dp
About DakPets: DakPets is a world renowned pet care brand with an impressive range of products. The company's name is synonymous with high quality, exceptional value in pet supplies. All their products are made and developed by professional experts that specialize in different breeds of dogs, cats, and even horse grooming tools and general pet care.
Contact:
Rob Scrivens
Release ID: 88931395