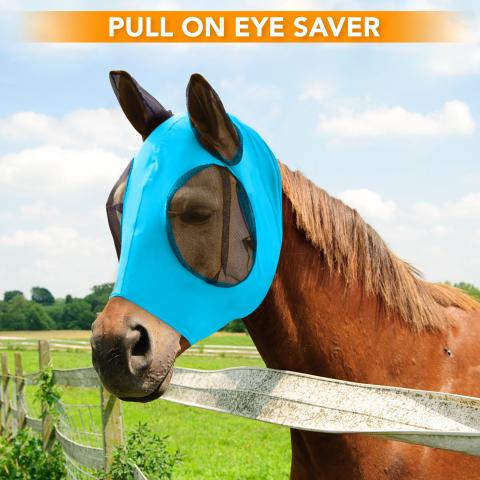 - October 20, 2019 /NewsNetwork/ —
DakPets, a popular pet care brand known for its durable high quality range of products, has just introduced an attractive 30% discount promotion for its Professional Comfort Fit Lycra Fly Mask via Amazon.
This recently launched product is a must-have accessory for horse owners looking to protect their horses from insect bites, different types of air-borne irritants and overexposure to UV rays. With a listed price of $12.99, the product will be available in Amazon for 30% discount until further notifications from DakPets with no coupon code required.
One of the easiest and most effective methods to protect the face, eyes and ears of horses from flies and other biting insects is using a fly mask designed specifically for horses. These masks can ensure a stress-free and healthy environment for the horses in the stable as well as in pasture. Fly masks cover the most vulnerable parts of the horse, the eyes, jaw and ears protecting it from painful and nasty bites. Horses can also be susceptible to sun burn, particularly the ones with sensitive skin or pale coats. Fly masks can be an excellent way to protect a horse's face from the sun's harmful UV rays.
"Flies often make life miserable for your horse. They bite, buzz, and keep annoying your pet throughout the spring and summer. Flies are not only capable of driving your horse crazy, but they can also cause serious dangers to their health," said Rob Scriven from DakPets. "By creating excessive stress on horses, flies can lessen their resistance to disease. Moreover, they can very easily spread diseases and parasites from sick horses to the ones that are healthy. It is very important that your horse, especially its face, is protected."
The most important features of DakPets' fly mask for horses are highlighted below.
· Protects the eyes from flies and mosquitoes.
· Prevents irritation from air borne particles.
· Protection from exposure to direct sunlight.
· Soft mesh manufactured from 100% nylon protects the ears from insects.
· 2 see-through mesh panels billow out around the eyes avoiding contact with the actual eye, providing protection from bites and injury.
· Lightweight, form-fitting and stretchy polyester is snug enough to prevent insects from getting inside and is easy to get on and off.
· The neck opening stretches comfortably to fit a total neck circumference of 100 mm.
"DakPets is always dedicated to maximizing the benefits for its loyal customers, and we are delighted to start a new Amazon sales promotion on our recently launched Professional Lycra Horse Fly Mask," said the Rob Scriven from DakPets. "Whether you are a casual rider or a serious horse racer, your horse certainly deserves the best possible care. Visit our Amazon storefront to take home our horse fly masks for an unbelievable price."
To find out more about DakPets Horse Fly Mask, please visit DakPets on Amazon.com
About DakPets – DakPets is a world-renowned pet care brand with an impressive range of pet care products. The company's name is synonymous with high quality, exceptional value pet care supplies. All their products are made and developed by experts that specialize in different breeds of dogs, cats, and even horse grooming tools as well as a general pet care range.
Release ID: 88927964