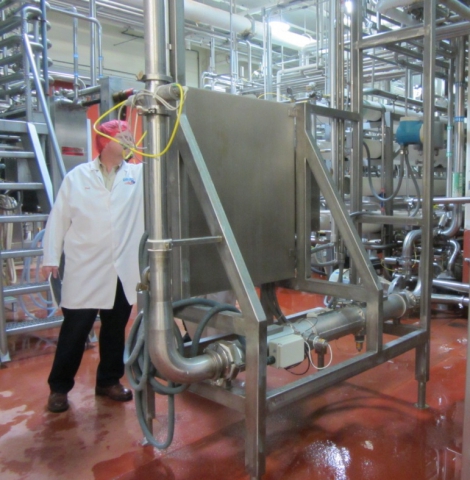 - September 28, 2017 /PressCable/ —
Milk processors serious about complying with new FDA FSMA regulations and ensuring product safety are also looking for Guaranteed Bio-Security. Dairy and Cheese producers are learning that the Food Safety & Modernization Act, FSMA, places all responsibility on food & beverage manufacturers to ensure that water doesn't contaminate their product. They can no longer be certain the incoming water is safe enough to mitigate the need for additional water safety precautions.
Atlantium UV Technologies is happy to announce its Hydro-Optic UV will benefit both new and existing dairy customers, helping to ensure product safety even when municipal drinking water standards can not .Specifically, this technology will deliver peace of mind for product safety as well as FSMA compliace. Atlantium has been able to do this because the Hydro-Optic design recycles photons for a uniform dose distribution ensuring pathogen disinfection in all incoming municipal water. Since water is used in product, cooling, ice, and cleaning, even contaminates on exteriors of equipment can transmit microbes to product, as in the 2010 Oregon dairy Salmonella outbreak.
To learn how to take full advantage of this Guaranteed Bio-Security and compliance with FDA FSMA regulations, customers can visit http://www.Atlantium.com for full details.
Atlantium UV is excited to report Dairy Production Plant Quality Control is now easier than ever. They urge Dairy Plants to be advised, they need to verify their incoming water quality. Better yet, institute a system to evaluate, monitor & verify their water's quality. On this subject, Phyllis Posey, V. P. of Regulatory Affairs & Strategic Planning at Atlantium UV Technologies said that the new EPA regulations could cause a Dairy Manufacturer to "unknowingly incorporate contaminated water into their system and product, which could be on the shelves before they are notified of an anomaly." Atlantium UV Technologies has made a point of staying abreast of dairy industry and governmental issues and assisting wherever possible. They reportedly do this because Atlantium and Posey monitor regulators closely to ensure their UV technology meets the changing needs of the Dairy industry for compliance and safety.
Having been in business now for for over 14 years, Atlantium UV Technologies strives to become the most innovative and effective UV technology in the world for Dairy process water disinfection. This dedication has made them known among their customers as forward thinking and innovative, consistently delivering solutions for the Dairy industry.
Interested parties with questions or who would like to be among the first to experience Guaranteed Bio-Security and compliance with FDA FSMA regulations are encouraged to visit the above website or representative Marc Scanlon on LinkedIn.
Release ID: 243872