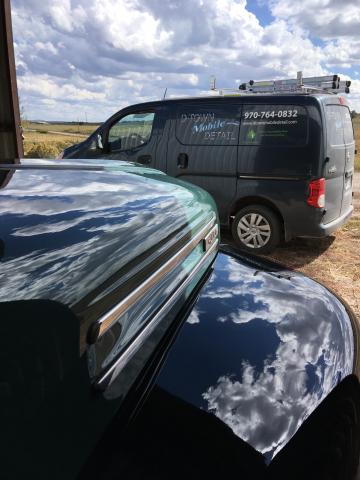 - November 21, 2019 /PressCable/ —
Mike Rasmussen, owner of D-Town Mobile Detail is expanding the use and service of ceramic car and vehicle coatings in the Southwest Colorado area. Waxing has worked to protect cars and trucks for decades, but is slowly becoming a thing of the past for those who want more durable and permanent solutions for protecting the surface of their cars.
The advantages gained in ceramic coatings for automobiles are growing largely as a matter of public education. It's also worth noting that these high-tech coatings vary widely in their price and quality. Mr. Rasmussen, based near Durango Colorado has tested a number of them and is focused on using coatings from manufacturers that have solid reputations for delivering the full benefits of these cutting edge substances.
Mike considers himself a high-quality car detailing professional, but also a teacher at times. That includes showing people understand the best way to clean and maintain their vehicle, and when the best time is to add some extra protection to your paint or how to quickly spruce up the interior. Satisfied customers are a priority, and this sometimes means showing car owners that they have better options than wax to protect painted surfaces.
D-Town offers a kind of insider perspective to all vehicle owners in an effort to help them protect their investment. Nano-ceramic coatings offer far stronger and longer lasting protection,keeping water and harmful road debris at bay. With all the innovations throughout the automotive industry from engineering to esthetics, the automotive world is in a technological 'Golden Age'.
It's good news for those passionate about getting behind the wheel and zoning out to the winding roads and fantastic landscapes that pass just outside of the windshield.
That said, one truth remains constant: Whether it's a commute back and forth to work, or a weekend road trip through the mountains, vehicles get dirty and that causes damage over time. Fortunately, the detailing industry is experiencing its own period of technological breakthrough that can help motorists keep cars looking amazing across every mile, and through any element.
One innovation which is exploding in popularity world-wide is Nano Ceramic Coatings. Originally developed for the aerospace industry to protect airplanes from the aggressive elements in the upper atmosphere, Ceramic Coatings have become the 'answered prayer' for vehicle owners searching for the best way to protect their vehicle.
Once applied, a ceramic coating creates a semi-permanent bond with almost any surface. Upon curing, the coating strengthens the outer surface it's applied to, creating a shiny, slick, and durable shield against environmental damage. It protects against UV radiation and chemical damage, as well as making your paint scratch resistant and easier to clean.
Ceramic coatings can even be applied to your interior making the carpet, seat fabric, and plastics stain resistant and easier to clean. The staying power is measured in years rather than months for more conventional waxing. This aspect of a mobile detailing service is available throughout many towns in Southwest Colorado, and may be seasonally available depending on weather.
Aside from the protective benefits, a coated vehicles take on a glow. The colors are deep and rich, the surface is glossy and reflective and looks as though it's just been painted. Drivers are inclined to gain interest once they know that a space-age advantage far surpassing wax actually exists.
Release ID: 88935246