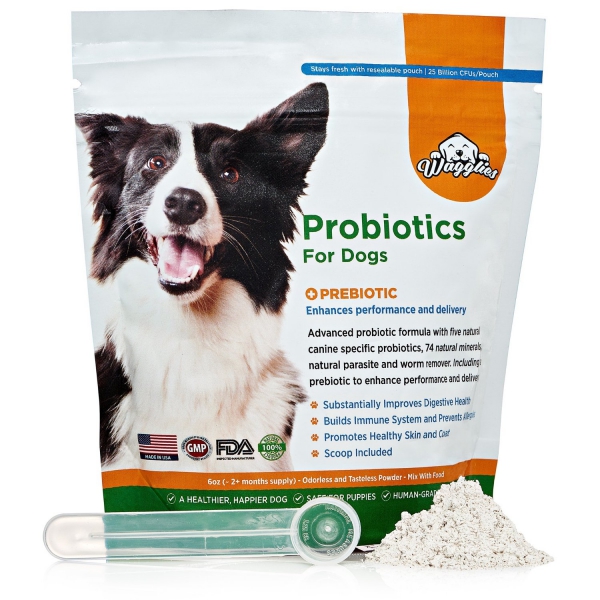 - June 7, 2016 /PressCable/ —
Since launching their dog probiotics onto Amazon USA in April, Wagglies have maintained high order rates and have met with each of their expected targets. This week, the brand have received feedback from two customers that gives them vital insight into their customers' needs.
One customer spoke of how she used the powder probiotics, "I ordered this because my English bull dog wasn't feeling good…She has been using this for 2 weeks every day now and has made such a big difference…I use it on all my dogs daily and my [mother] in law wants me to order some for her dogs. Just a small amount each day has made such a big difference in my fur babies…", whilst another spoke of how affordable the powder supplements were, "…We love our fur babies like they are actually babies and we've been buying basically the same thing from the vet because our American Bully has a very temperamental tummy. He is doing really well on this product and it's a whole lot more affordable than the vet ones we buy…"
Wagglies' new dog probiotics contain 5 strains of probiotic and an added prebiotic. The prebiotic acts as an anchor, guiding the probiotics to the area of the gut and intestines where they will be able to work most effectively.
"This feedback from customers is essential to us as a brand. Without this feedback, we just can't move forward." said Dan Clayton, Founder of Wagglies, "We'd like to invite our customers to send us their feedback on our probiotics as it's what allows us to make our product even better."
Made in the USA, in a GMP and FDA approved lab, Wagglies' dog supplements also contain 25 billion CFUs and 74 trace minerals.
"We wanted to pack as many beneficial ingredients as possible into our supplements." continued Dan, "While our competitors may use fillers in their mixes, we were determined to make an effective powder probiotic mix that was natural and good for a dog's immune system."
Wagglies' Probiotics for Dogs aren't the first product that the brand have launched onto Amazon. Previous successful products have included Puppy Training Pads and Dog Nail Clippers, both of which were released onto Amazon UK and USA.
Wagglies Probiotics for Dogs are now available in a 6oz bag (∼ 2+ months supply) from Amazon USA: http://www.amazon.com/Wagglies-Probiotics-Dogs-Pre…
Release ID: 118157