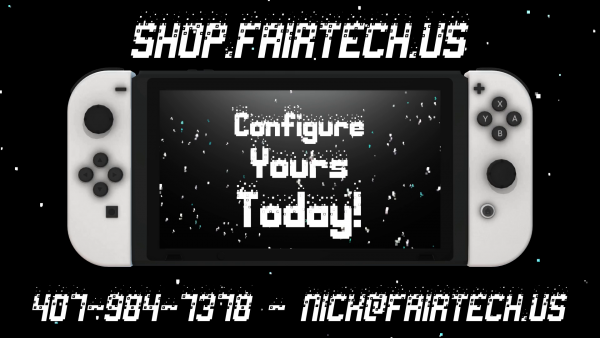 - November 5, 2021 /NewsNetwork/ —
The recently announced collection helps more people install custom firmware on their Switch consoles for better usability and wider access to their console. FairTech Shop explains that its new Custom Modded Switches include entirely Open-Source software setup, partitioning of the chosen SD card capacity, and pre-installation of a modified version of a custom firmware known as Atmosphere.
More details can be found at https://www.shop.fairtech.us/Switch-Ad
With the recently announced custom Nintendo Switches, customers also have the option to enable extra system features like custom themes, game mods, and cheat codes. Each console and added accessories are pre-owned, but restored to be in great condition and fully functional. Further, docks, grips, and rails are included, provided that customers also purchase a custom Joy-Con controller.
Nintendo Switch modding is the act of modifying consoles so that users have limitless access to their devices on a system level. Otherwise known as jailbreaking, modding allows consoles to widen compatibility with various video game emulators and source software while gaining the ability to install "homebrew" software from other sources – wherein homebrew describes a user-generated piece of software.
The result is a more customizable, and enjoyable user experience while playing your favorite games. A custom Nintendo Switch console using homebrew apps typically has added quality of life features, including backing up and restoring save data, updating the console safely, overclocking, and FPS Patches.
The service also allows you to choose to install Multi-Boot alternative operating systems. This allows you to run apps and games from the Google Play Store with Android, Use your Switch like a full desktop computer experience with Ubuntu, or as a library of retro console emulators with Lakka!
With the new collection, customers can also ask for special requests for an additional fee depending on the span of work required. Things from custom clear shelled Joy-Cons, to RGB button mods! Lifetime support is also provided after purchase.
The FairTech Shop is run by Nicholas Fair, a lifelong electronics enthusiast who has been working with computers since he was two and playing with his parent's IBM PC 300PL. Since then, he has self-studied several programming languages, learned the Adobe suite, and helped create one of the first jailbreaks for the iPhone.
Fair says, "During my high school years, I fueled my electronics addiction by repairing phones, modding game consoles, and editing TV Production students' videos for money. This website is similar, in that I hope to fuel my passion for electronics, and hopefully my hobby can become my full-time job."
Interested parties can find more information by visiting https://www.shop.fairtech.us/Switch-Ad
Release ID: 89051830