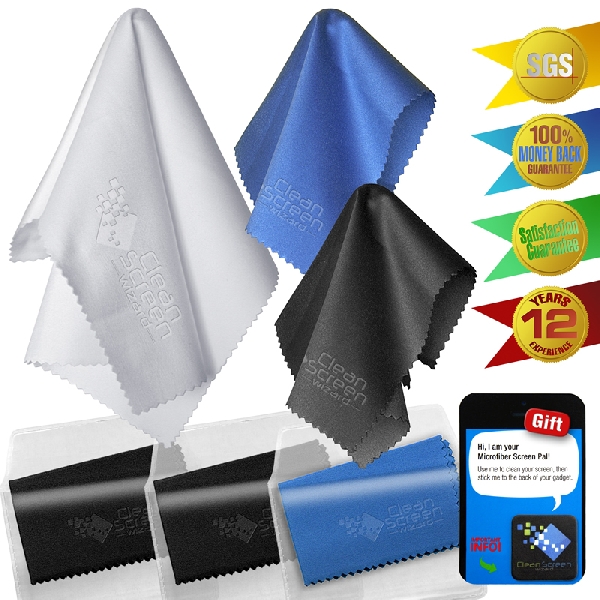 - November 17, 2014 /PressCable/ —
Clean Screen Wizard, filial of the Danish company Moojou Enterprises, celebrates reaching the initial goal of 100 5-Star product reviews on Amazon.com in record time, for their top selling product, the Microfiber Cleaning Cloth 6-Pack. As part of company's main campaign to attain a 100% personalized satisfaction service, this goal is only one of many tasks currently in process.
The 100% High-Quality Service Campaign, is a long term project that includes a wide number of benefits, which started with last week's launch of the VIP Membership Club, that provides customers with a high level of service through reports and videos with valuable and quality information, exclusive promotions and discounts, and more.
Clean Screen Wizard looks to provide a top experience with their products, this can be reached by providing customers the right information in a timely manner, and that is why the company has created a series of material, eBooks, free PDF reports and videos that are regularly delivered to the clients, making sure they have all the necessary information and tips to get the best possible results.
When interviewing Moojou's Customer Team Leader, Johanna Rivero, she explained, "To get these 100 5-Star customer reviews on our Amazon.com from the site community is just the first step, in a long line of goals. A good product with good quality is not enough. When people buy they are looking for an excellent experience, and this can only be accomplish by delivering the top-notch service along with a high quality product". She further added, "Most of our customers are amazed when they read or watch the information videos and free reports of just how little they know about the product they bought. Providing useful and timely information that helps the customer prevents common mistakes in the use of the product and has been the key element for the 100 5-star review goal."
CSW Microfiber Cleaning Cloth Set, includes 6 high quality scratch free microfiber cloths, in 2 sizes, 1 large white cloth of 11.5 x 8 inches and 5 medium size cloths 7 x 6 inches, 3 in color black and 2 in blue color. Each cloth is individually packaged in strong vinyl pouches for extra protection so they can be brought along and keep them clean between uses. Cloths come in different colors to avoid criss-crosing them if they are used for different purposes.The kit also includes a bonus portable microfiber sticker "Screen Pal", which is designed to clean small screen areas such as smart phone, glasses, cellular phone and cameras.
The high quality absorption of these cloths make them great to wipe fingerprints and dust off with a lint and streak-free performance.They are also an obvious option as a laptop screen cleaner and for other electronic devices such as iPhones, iPads, tablets, smartphone, cellular phones, LCD Monitor, Flat screen and TVs in general, computer screens, eyeglasses, go-pro cameras and as well as a lens cleaner or for dvds, cds, blu-ray discs, jewelry, optical surfaces and any other fragile and delicate area.
In the words of Customer Product Reviewer #100, Miss Noelle, "Very nice product. They arrived in one pack with each individual microfiber cloth in its own package. I received 2 emails prior to arrival thanking me for my business & containing video links on how to care for the cloths. Honestly, I enjoyed the videos and learned a few things. I didn't realize you couldn't wash them with detergents. Perhaps I'm just daft or just didn't think much about it. Now I know. Thus far the cloths are fantastic & do the job well. I'm happy with the product & will tell friends about them along  with how to care for them. I appreciate the email thanks & instruction videos. I also appreciate that the company is NOT constantly emailing me with unless information or trying to get me to buy more. That's a true relief. Great products, great price, impressive company." 
To celebrate the occasion the company has launched a special discount coupon, to thank customers for their valuable support on the achievement of this goal. This Microfiber Cleaning Kit is sold on Amazon.com for $9.95, and now customers can buy them at 25% off when using the 100% Reviews Celebration Coupon (500STARS).
CSW products only sold at Amazon.com with it special WIN-WIN warranty that offers customers the backup of a 100% complete refund if the product fails to provide gentle, streak-free display cleaning results.
Release ID: 68402